Tot 10: School Vacation Week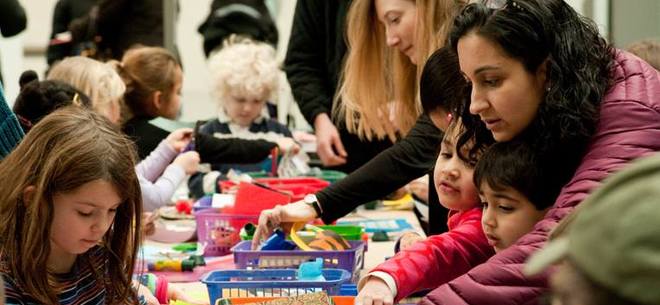 If you notice more rugrats than usual running around Boston over the next few days, you're not imagining things. It's February School Vacation Week, which means the city will be serving as a playground for a whole lot of lucky kids. Here are 10 things to do with the youngsters in your life.
The
Boston Children's Museum
has been a family-fun destination for 100 years now, and for good reason. With a music center, art studio, science exhibits, and a three-story climbing structure—plus a whole lot more—there's plenty to keep kids busy for hours on end. During School Vacation Week, they're hosing a Visiting Artist Workshop with Anthony Palocci Jr. (Feb. 16), a Splash 'N' Boots live performance (Feb. 20), and an Engineer-a-Thon with the BU Society for Black Engineers (Feb. 22).
Coming all the way from Down Under, the animal-free
Circus Oz
will be at the Citi Shubert Theatre Feb. 19–23. The show, called
From the Ground Up
, combines acrobatics and death-defying stunts with a healthy dose of Aussie humor.
Both
Franklin Park Zoo
and
Stone Zoo
have a handful of special events planned for School Vacation Week like animal encounters and story time at the Stone Zoo. At Franklin Park Zoo, kids can escape the cold in the tropical forest and celebrate the birthday of Little Joe, one of the zoo's gorillas.
Ice-skating on the
Boston Common Frog Pond
is a popular wintertime activity no matter what your age. Kids 13 and under skate for free, while skate rentals are only $5. Stop by on Feb. 15 for Skatefest, where you can take advantage of 30-minute group lessons with coaches from the Skating Club of Boston.
Mini Red Sox fans can have a sleepover at Hotel Commonwealth on Feb. 21 and 22. The fifth annual
Bedtime Stories with Wally the Green Monster
celebrates the Red Sox, baseball, and the recent World Series win. Kids can wear their pajamas or baseball gear to the event, where they'll hear stories and enjoy hot chocolate.
The
Museum of Fine Arts
is getting in on the Vacation Week fun by offering children free entry into the museum. Kids can make an artwork inspired by a glass Chihuly sculpture, contribute to a mosaic, and go on special family tours every 15 minutes.
Feb. 16–22 is National Engineers Week at the
Museum of Science
. Kids can explore engineering-themed exhibits and activities like designing prototypes for their own inventions, or designing software to move a robot. The food-based exhibit
Innovation in the Art of Food
opens on Feb. 15, celebrating the world-famous chef Ferran Adrià.
Located right by Boston Harbor, the
New England Aquarium
is known for its array of sea creatures and interactive exhibits. You'll find seals and penguins, a coral reef, and kids can even touch some of the sea creatures in the touch tanks.
The
Freedom Trail Foundation
has a full schedule of educational and engaging events planned at their various sites. Learn about 18th-century domestic life at the Paul Revere House, chocolate-making at Captain Jackson's Chocolate Shop, and ship-building at the U.S.S. Constitution Museum.
And finally, for some free fun, the
Boston Public Library
has plenty planned in addition to its normal child-oriented activities. Story times, arts and crafts, Lego clubs, geography games, music exploration, and much more is on the schedule. At "Avengers Assemble," for example, kids will learn about superheroes (Feb. 19, 1-3 p.m.). We might just have to sign up for that one ourselves.