Guide to Boston Museums
Brush up on everything from art and history to science and nature at 10 of Boston's most illustrious repositories of knowledge.


John F. Kennedy Presidential Library and Museum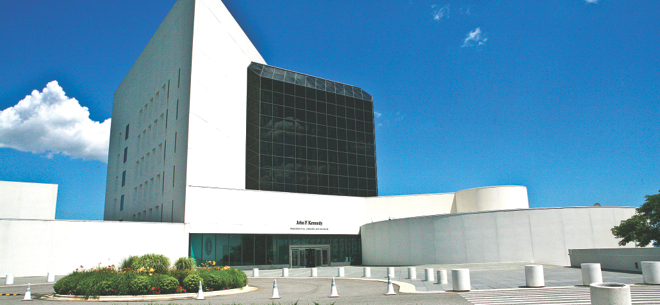 Experience an awe-inspiring journey into the life and legacy of the Boston-bred 35th President of the United States and his famous family at this elegant, I.M. Pei-designed building overlooking Boston Harbor.
Columbia Point, Dorchester, 866-535-1960, jfklibrary.org
The Museum of African American History
Located on Beacon Hill at the African Meeting House – the oldest black church in the U.S. – this institution is dedicated to relaying the contributions of African Americans throughout New England's history.
46 Joy St., 617-725-2991, afroammuseum.com
Boston Children's Museum
Having fun while learning? That's the mission of this kid-focused museum, boasting interactive exhibits that teach youngsters about everything from science and art to history and fitness.
308 Congress St., 617-426-6500, bostonkids.org
Museum of Fine Arts
Art from ancient to contemporary populated this encyclopedic edifice in the Fenway neighborhood. Noted for its collection of Asian art, the MFA also houses a gorgeous Art of the Americas wing, which debuted with the museum's 2010 expansion.
465 Huntington Ave., 617-267-9300, mfa.org
New England Aquarium
This innovative aquatic zoo is now better than ever thanks to the recent renovation of its central Giant Ocean Tank, which is home to more than 1,000 undersea critters. Also check out the harbor seals near the entrance and northern fur seals and sea lions at the Marine Mammal Center.
Central Wharf, 617-973-5206, neaq.org
Institute of Contemporary Art
The ICA, which highlights cutting-edge art in a state-of-the-art waterfront facility in Boston's trendy Innovation District, also hosts avant-garde music and dance in its theater overlooking Boston Harbor.
100 Northern Ave., 617-478-3100, icaboston.org
Harvard Museum of Natural History
Renowned for its glass flower collection (pictured), this Harvard University museum also has an outstanding gem and mineral display, as well as enlightening exhibits on nature and the environment.
26 Oxford St., Cambridge, 617-495-3045, hmnh.harvard.edu
Museum of Science
Science comes alive at this popular museum at the mouth of the Charles River, which is home to IMAX and 3-D theaters, a planetarium, a butterfly garden and live animal displays, along with fun exhibits on electricity, dinosaurs, human biology and more.
Science Park, 617-723-2500, mos.org
Boston Tea Party Ships and Museum
Located just off the Congress Street Bridge near the site of the momentous protest from December 16, 1773, this museum features interactive displays, costumed interpreters, two replica ships and even a tea room, all commemorating one of the most important events leading up to the American Revolution.
306 Congress St., 617-338-1773, bostonteapartyship.com
Isabella Stewart Gardner Museum
The famed Fenway institution still basks in the glow of its 2012 Renzo Piano-designed addition (pictured), yet it's the lush garden courtyard and priceless collection of art from such giants as Raphael, Titian, Rembrandt and Degas that draws visitors to the original 1901 building, fashioned after a 15th-century Venetian palazzo.
208 The Fenway, 617-566-1401, gardnermuseum.org