The MFA thinks pink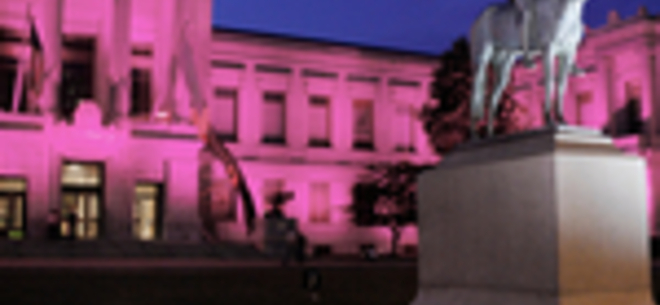 Whether in the form of a baby shower invitation or the pastel paint on the walls of a nursery, the colors pink and blue have been strongly associated with gender for decades. However, this hasn't always been the case. The Think Pink exhibition at the Museum of Fine Arts traces the evolving meanings of the color pink and its prominence from the 18th century through today in clothing, accessories and art.
"Why pink for girls, and blue for boys? When did these associations start? And how do we perceive the color now?" These are the questions that Michelle Finamore, Curator of Fashion Arts at the MFA, asked herself when preparing this exhibition. She turned to fashion and the arts, her areas of expertise, in order to explore these questions. "It was fascinating to look at the collection through rose-colored glasses and think about how I could tell that story using an 18th century painting with boys in dresses, an 18th century pink taffeta dolls dress with pinked edges, a 19th century dress dyed with aniline dyes, and a 1956 Christian Dior rose-patterned dress, among many, many other treasures from the MFA collection."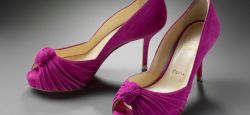 In addition to pieces by haute couture designers such as Ralph Lauren, Christian Dior, Dolce & Gabbana, Christian Louboutin and Oscar de la Renta, dresses and accessories from the personal collection of the late Evelyn Lauder will be featured. Evelyn Lauder was the daughter-in-law of Estée Lauder and eventually took over as Senior Vice President of the renowned beauty brand. She became an influential breast cancer activist and in 1992, she developed the idea of the pink ribbon as the symbol for breast cancer awareness. Since then, 120 million Pink Ribbons have been distributed worldwide. Further, she was the founder and Chairman of the Breast Cancer Research Foundation in 1993, which has raised $450 million to date.
This exhibition will take place in the Rosemary Merill Loring and Caleb Loring Jr. Gallery (Gallery 276) from October 3 through May 26, 2014. In addition to this exhibition, the MFA will illuminate the exterior of the building in pink for the entire month of October in honor of Breast Cancer Awareness Month. The illumination ceremony will begin at 7 p.m. on October 2. For more information on this event, visit mfa.org/exhibitions/think-pink.