Ore brings local bling and more to the South End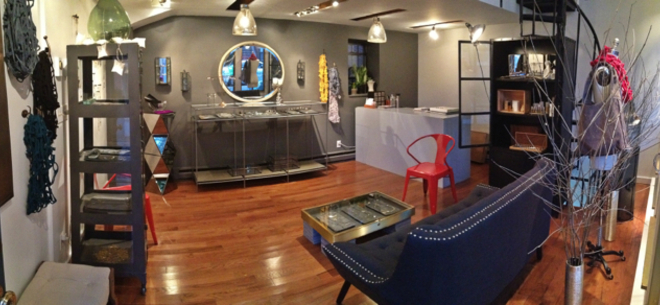 From angular gold rings to elegant silver hoops, the South End's newest jewelry boutique has an eclectic assortment of unique pieces. Ore is the second store from jewelry designer Sophie Hughes and, true to its name, it features jewelry made from gold and sterling silver.
Hughes started designing jewelry when she was in high school in Kennebunk, Maine and has followed her passion for daring and different creations ever since. All of Hughes' pieces are handmade in her studio above the store, allowing her to customize jewelry for customers. Using pieces that she has already made, customers can choose changes in terms of size, material, and other details. Recently, Hughes has found inspiration for her one-of-a-kind pieces from ancient weaponry and architecture, bringing out an edgier side to her work.
While Hughes' collection makes up the majority of the available accessories at Ore, designers Lauren Passenti and Hannah Blount are featured as well. "They are two designers whose work I really love and really believe in," Hughes says. "Our pieces go well together and really complement each other." In addition to their creations, shoppers can also find scarves, perfume, and bags from other local designers.
"My mission is to shake up what people think of when they think of a jewelry store," Hughes says. Not only is the jewelry edgier than the conservative pieces often found in Boston, but the shopping experience is different as well. Hughes aims for a more relaxed and personal relationship with customers. Touching and trying on is encouraged so that customers can find the perfect piece to enhance their style.
To discover the perfect piece of your own, check out Ore at 80 Dartmouth St., or
online
.