Peek at the Past: Newbury Street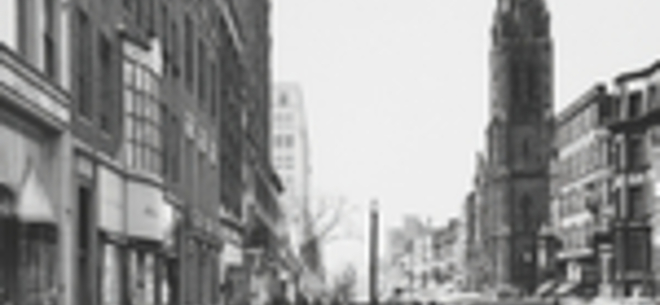 Next time you're walking down Newbury Street, consider this: About 150 years ago, you would have been underwater. The popular shopping street and the surrounding Back Bay was comprised of tidal flats along Charles River until the early 1800s. Using soil brought in from surrounding communities, the filling of 450 acres in the Back Bay started in 1857, with an average depth of 20 feet. The land was filled to Clarendon Street by 1860, to Exeter Street by 1870 and was completed in 1882.

Once on solid ground, Newbury Street started taking shape, borrowing its name from the victory of the Puritans in the 1643 Battle of Newbury in England. The street's first building was Emmanuel Church at 15 Newbury, which still boasts a thriving congregation to this day. (Visitors of all faiths are welcome to the 10 a.m. Sunday service.) The street and the surrounding area took cues from European design, and the tony brownstones and wide boulevards were originally home to Boston's elite. By the latter part of the century, the street was one of the most sought-after addresses in the city thanks to the buildings' large size and modern amenities, including indoor plumbing and coal-burning furnaces.
The Massachusetts Institute of Technology also called Newbury Street home from 1865-1916 before moving across the river to Cambridge.
The first commercial business opened on Newbury in 1905, and over the years more and more shops, salons, galleries and other establishments moved in, adding large glass windows to show off their wares. Slowly but surely, the street became known as a major retail destination, and today, many refer to it as the "Rodeo Drive of the East."
For a peek at the present, stroll down Newbury Street over the next few weeks and see their shops in their holiday finery. The Newbury Street League hosts the annual Holiday Tree Lighting Ceremony on Tuesday November 19 at 5:30 p.m. at CafeTeria. (279-A Newbury St.)