Boston's best shopping havens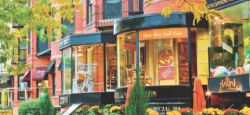 Whether you're label-obsessed or a staunch locavore, Boston's retail scene offers a bevy of browsing opportunities. Get to know the city's distinct neighborhoods before striking out on your own shopping adventure.
Back Bay
. Newbury Street, with its charming brownstones and tree-lined walkways, is the heart of Boston's shopping scene—and with good reason. The street is home to a mix of high-end clothiers, favorite chain stores, funky boutiques, salons, galleries and restaurants. And just a few blocks away, you'll find two of the city's best malls: Copley Place and the Prudential Center.
Don't miss: Lunch on the patio at Stephanie's on Newbury, handmade treasures at the Society of Arts & Crafts and sweets at Robin's Candy.
Charles Street
. After you take your ubiquitous photo of Acorn Street on Beacon Hill, take a stroll down Charles Street, the neighborhood's commercial artery. It's easy to imagine yourself living above one of the shops on this community-oriented street, which is known for its Brahmin boutiques and intimate eateries.
Don't miss: Gifts at Black Ink, boots at Helen's Leather Shop and cocktails at jail-turned-bar Clink.
North End
. Synonymous with Italian pasta, pastries and pizza, the North End is also an excellent place to shop. There are clothing boutiques sprinkled among the restaurants of Hanover Street, plus a number of specialty food shops tucked away on side streets. Allow yourself to wander to discover the hidden gems of this neighborhood.
Don't miss: Custom denim at in-jean-ius, loose-leaf tea at Polcari's and gelato at Café Pompeii.
Faneuil Hall
. More than 75 shops and specialty pushcarts are centered in this historic marketplace, a must on any visitor's to-do list. Stock up on Boston-themed souvenirs, watch the street performers, and save room for lunch, because the extensive food court has everything from cupcakes to chowder.
Don't miss: Custom artwork at Best Gift Idea Ever, commemorative ornaments at Christmas in Boston and macaroons from Kilvert & Forbes.
South End
. Slightly off the beaten path, the South End has a more local vibe than some of Boston's other shopping districts and is worth a visit for its unique specialty shops and award-winning restaurants. Most of the action is centered on Tremont and Washington streets, and the SoWa (South of Washington) district is renowned for its artist studios and Sunday markets.
Don't miss: Home accessories at Hudson, chocolate samples at Olives & Grace and oysters at B&G.
Cambridge
. Harvard Square has been the center of Cambridge activity since the 17th century, and it's still a bustling shopping destination today. Thanks to its high student population, the area has a slightly more bohemian feel than Boston, and you'll find everything from a shop that sells only hemp products (The Hempest) to the only brick-and-mortar Curious George store in the world.
Don't miss: Harvard gear at The Coop, vintage goodies at the Garment District and coffee from Crema.