Chef Nookie Postal's Commonwealth now open in Kendall Square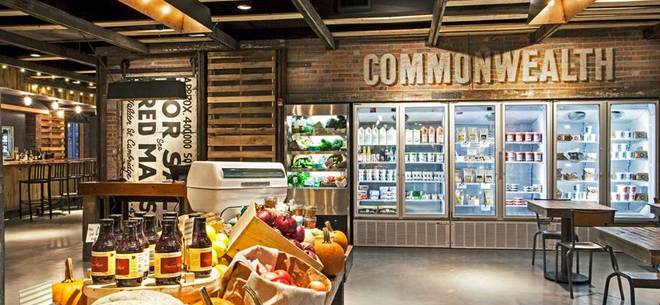 The first time you visit Chef Steve "Nookie" Postal's new Kendall Square restaurant Commonwealth, you might think you've stumbled into an upscale foodie market. And you'd be right. The shelves are stocked with locally sourced produce, dairy products, and baked goods, not only giving diners a glimpse of what they're about to eat, but also inviting them to stock up on ingredients to create their own culinary magic at home.
With its strong farm-to-table focus and rustic aesthetic, Commonwealth is a refreshing addition to the tech-centric Kendall Square scene. The sunny, sprawling space overlooks the Broad Canal, and there's plenty of room for outdoor seating when the weather warms up. The walls of the dining room are made from rough-hewn wooden palettes and globe lights are hung from the ceiling, giving the room a barn-like feel. The furniture is spare and mostly antique.
Likewise, the menu is decidedly unfussy. For dinner, you'll choose from a straightforward list of entrees such as Vermont Quail, Local Hake, and Pineland Farms Beef Shortrib. Sides like Brussels sprouts, duck fat fries, and sugar pumpkin are served a la carte in shareable portions.
Our favorite part is dessert, where you can create your own combo of ice cream (mint chip, chocolate salted caramel, apple sorbet), pairings (cinnamon waffle, pain perdu, doughnut holes) and toppings (hot fudge, homemade fluff, bacon almond praline brittle). As simple as the dishes are, they're skillfully prepared by Postal, former executive chef at Fenway Park and star of Bravo's
Around the World in 80 Plates
.
The drink menu is much more hefty, with dozens of cocktails categorized as Classic Cocktails, Commonwealth Cocktails, or Cheesy Classics. We erred on the side of cheesy with the Cuba Libre — Mexican Coke, rum, and a grilled lime — then mixed it up with the punch of the day, a rum-heavy concoction with an surprising hint of cumin. Beer lovers will be happy to find a few rotating craft brews on tap — Jack's Abby Smoke & Dagger, Stone Arrogant Bastard — and bottled beer, too, including several bombers.
For lunch, Kendall Square's working crowd can choose from pretty standard sandwiches like Roast Beef or Cold Italian along with more unique offerings such as the Cantabrigian (hummus, quinoa tabouleh, cucumber relish bean sprouts, zhoug). All priced below $12, the sandwiches are served with a small salad and duck fat fries.
Commonwealth is open for lunch, dinner, and browsing daily, and they offer validated parking in the Kendall Square Garage just downstairs ($1 for three hours). Stop by 11 Broad Canal Way and check out the weekly menu at
commonwealthcambridge.com
.