Bostonian of the Day: James D.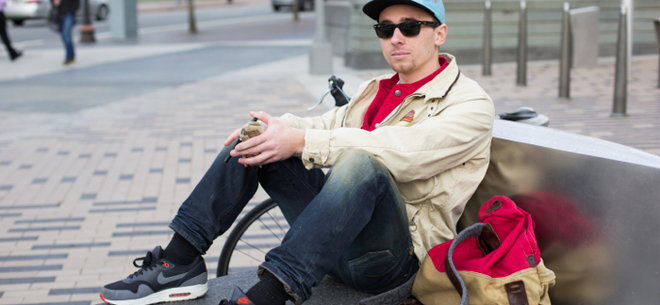 Margarita Polivtseva
Are you from Boston? I was born here but I moved around every couple years when I was younger and eventually moved back. I went to the Art Institute of Boston and I'm a designer now. I do graphics and patterns for footwear and apparel.
Is that what you thought you'd get into when you went to art school?
It's what I hoped. At some point I'm going to start coming out with more of my own work and hopefully take that in a few different directions. I'd love to do my own line.
What do you like to do in Boston?
Probably just walk around. On a day like today, this is a rare gem. Mid-November to be able to walk around outside, that's great. It's a good sized city to walk around or bike. If I'm lucky enough to have a day off, I just like walking around.
What's your favorite neighborhood?
It depends on the mood that I'm in. Certain places in Dorchester are kind of fun, when it's nice out especially. The North End and Chinatown are obviously fun to poke around. That's what I like about Boston. Everything is 10 or 15 minutes away.
What's your favorite restaurant?
Cambridge Commons over on Mass Ave. It's American pub food and it's really good.
Do the architecture and overall look of Boston inspires any of your designs?
Definitely. From a strictly architectural standpoint, a lot of people think Boston is really ugly. Like Lincoln Center and all that crazy cement, people are not about that. Coming from a perspective of shapes and the relationship of things in certain areas with other things, Boston is a city with a lot of cool angles. Even these South Station bubbles are nuts. They're really cool.