Stage Spotlight: The week in theater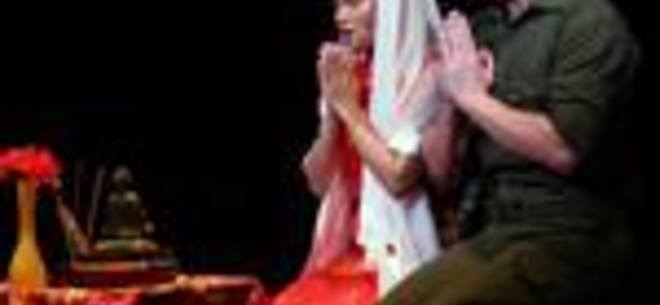 A lot of Boston shows are wrapping up their runs this week in anticipation of the holiday theater season. Before the inevitable onslaught of Christmas Carols hits local stages, you may want to check out a few of these offerings.

Miss Saigon (pictured) presented by the North Shore Music Theatre, has its final shows Nov. 13-17. This tragic love story follows an American soldier and a Vietnamese girl who fall in love in the midst of the war. When Saigon falls, the two are separated and struggle to reconnect in the following years.The Boston Globe wrote, "Director Richard Stafford and his superlative cast beautifully capture the human drama, excruciating dilemmas, and quiet devastation at the heart of Miss Saigon.
See Company One's Splendor during its final days (Nov. 13-16) — and before Thanksgiving. The play follows Fran as she heads home to celebrate Thanksgiving with her family. There she has to deal with her mother, a kleptomaniac chain-smoker, and her brother, a notorious couch-surfer. This collection of stories from Fran's town shows how much families clash when they're brought together over turkey and pumpkin pie.
Bad Habit Productions finishes Someone Who'll Watch Over Me Nov. 13-16. When an American doctor, an Irish journalist, and an English academic are taken prisoner by terrorists, they're forced to confront their prejudices and talk through their disagreements. In order to survive, they turn to humor and a bond is gradually formed between the three unlikely friends. In addition to throwing parties and playing imaginary games, they share stories of what their lives were like outside of the tiny cell.

Lyric Stage Company concludes Water by the Spoonful, the Pulitzer Prize-winning play, with final performances Nov. 13-16. This play by Quiara Alegría Hudes follows the struggles of an Iraq war veteran as he tries to assimilate back to civilian life. The Globe wrote, "I'd strongly urge you to see this moving, well-acted production."
SpeakEasy's world premiere of Kurt Vonnegut's Make Up Your Mind has a few weeks to go; you can see it Wednesdays through Sundays now through Nov. 30. It's all about Roland Stackhouse, a man who's devised a cure for indecisiveness — or so he thinks. Zeitgeist Stage Company's The Normal Heart is also mid-run; see it through Nov. 23. Larry Kramer's autobiographical play focuses on the rise of the HIV-AIDS crisis in NYC in the 1980s.

And in new show news, straight off a successful Power of Duff run, the Huntington Theatre Company opens The Cocktail Hour on Fri. Nov. 15. This touching comedy takes the audience through a cocktail hour at the elegant home of John's parents. However, when John reveals that he has written a play about his family, drama ensues and the intricacies of this seemingly refined family come out.