Dine Near the Marathon Finish Line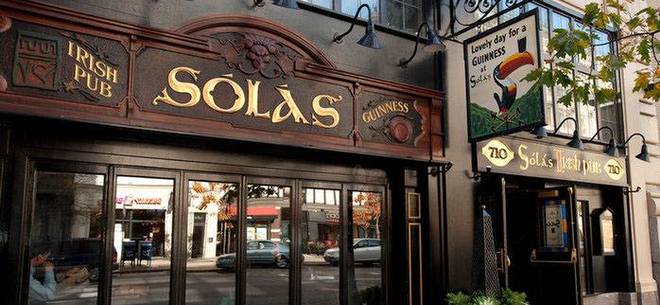 Whether you've just run 26.2 miles or you're only there to cheer on your favorite runner, if you're near the marathon route on Marathon Monday, you're bound to get hungry—or thirsty. Here are a few places to feed your appetite without missing any of the action.
Towne Stove and Spirits
(900 Boylston St.) boasts a roomy patio overlooking Boylston Street—it's the perfect place for sipping cocktails and loading up on truffle polenta fries in the fresh air. Stop by on Sunday, April 20 for a pre-race carbo-loading extravaganza; choose from veal bolognese, spaghetti and meatballs, fusilli, shrimp ravioli, and potato gnocchi with lobster.
McGreevy's
(911 Boylston St.) is teaming up with Harley Davidson for Marathon Monday by holding a raffle for 10 motorcycle keys. Each has the chance to start the Harley that is being given away in June. McGreevy's will open its doors to the 21+ public at 8 a.m.
If tequila and tacos are on your Marathon Monday agenda, head over to the
Cactus Club
(939 Boylston St.). From this spot you can watch runners coming around that last curve in the road and head toward the finish line.
Solas Irish Pub
(710 Boylston St.) is right by the finish line. You can sit out on their patio and watch people finish the race while eating food that makes you thankful that you're not the one running. This bar has a wide selection of beers, gluten free menu items, and an intimate dining room for those who want to get away from the craziness of the day.
Forum
(755 Boylston St.) was one of the buildings damaged in the 2013 bombings—and they've managed to bounce back admirably. It will be a great place to visit on Marathon Monday to celebrate the race, the reopening of the restaurant, and the resilience of Boston.
To enjoy a great, wide view of the race and be one of the only comfortable spectators, check out
Cityside Bar
in Cleveland Circle. This bar has a great deck that overlooks the marathon and serves affordable food and drinks. Make sure to get there early, because this hotspot gets full fast.
Good for getting out of the rowdy crowd,
Eastern Standard
(528 Commonwealth Ave.) provides a place to sit and get good quality food and drinks. You can even watch runners run the last leg of the marathon from the comfort of the patio.
Who did we leave out? Leave your favorites in the comments!