Boston's Guide to Fenway/Kenmore Square
When they hear "Fenway," most people think of baseball, but there's a whole lot more going on in this Boston neighborhood than pop flies and World Series wins. Here are 10 ways to have a ball, even when it's not game day.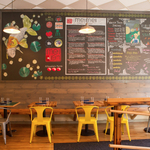 Mei Mei
. What started out as an award-winning food truck shelling out sustainable Chinese-American fare is now a cheery brick-and-mortar. Order the Double Awesome, a scallion pancake sandwich with local greens pesto, Vermont cheddar and two slow-poached-then-fried eggs. 506 Park Drive, 857-250-4959
Isabella Stewart Gardner Museum
. Founded by and named for an avid art collector and philanthropist in 1903, this museum houses a remarkable collection of works ranging from the contemporary era to Roman times. The building itself is a work of art; the main museum is modeled after a 15th century Venetian palace, while a modern new wing, designed by Pritzker Prize-winning architect Renzo Piano, opened in January 2012. 280 The Fenway, 617-566-1401
Jillian's & Lucky Strike Lanes
. This three-level, 70,000-square-foot entertainment complex behind Fenway Park offers everything from bowling to billiards to beer. The first-floor dance club Tequila Rain promises a Spring Break vibe 52 weeks a year. 145 Ipswich St., 617-437-0300
Bleacher Bar
. CNN dubbed this spot "the most unique sports bar in the world" thanks to its location in a former batting cage in the bowels of Fenway Park. Open year-round, the bar offers an incomparable view of the field whether the Red Sox are playing or not. 82 Lansdowne St., 617-262-2424
Eastern Standard
. Boasting an elegant and intimate brasserie-style dining room, this popular eatery is known for its inventive cocktail list, bustling brunch and a covered patio that's open year-round. 528 Commonwealth Ave., 617-532-9100
Museum of Fine Arts
. The MFA is known as one of the most comprehensive art museums in the entire world, thanks to a diverse, encyclopedic collection of nearly 450,000 works of art. Current exhibitions highlight Latin American art, Impressionist masterworks and European avant-garde photography. 465 Huntington Ave., 617-267-9300
Sweet Cheeks Q
. Yes, Virginia, you can get good barbecue north of the Mason Dixon line, and this down-home-style restaurant is proof of that. Their signature Big Cheeks tray comes with a meat (like Berkshire pulled pork, brisket or fried chicken) and one hot and one cold side. Be sure to get the bucket o' biscuits with honey butter. 1381 Boylston St., 617-266-1300
House of Blues
. Located on lively Lansdowne Street, this venue books big-name acts and trendy up-and-comers. 15 Lansdowne St., 888-693-2583
Island Creek Oyster Bar
. From oyster growers to beer brewers to fishermen, the spotlight is on purveyors at this sleek and shiny oyster bar with a daily changing menu. They want you to find out just how fresh seafood can taste. 500 Commonwealth Ave., 617-532-5300
Cask 'n Flagon.
If you can't make it to the Red Sox game, Cask 'n Flagon is a respectable second choice. Located just a few steps from the park, the lively sports bar has TVs all over the place, a menu of tasty pub grub and a patio that's massively popular in the summer months. 62 Brookline Ave., 617-536-4840