Peek at the Past: Commonwealth Avenue Mall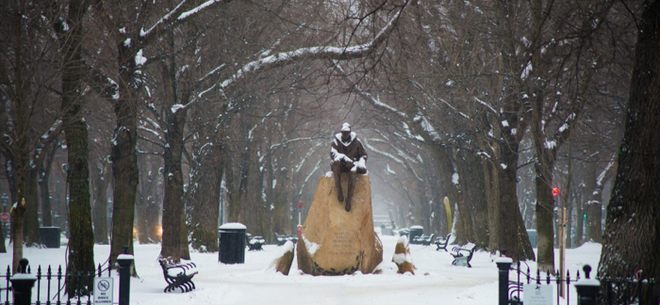 Serving as a leafy link between the Public Garden and Frederick Law Olmsted's park system, Commonwealth Avenue is arguably the grandest thoroughfare in Boston. Bordered by historic brownstones, the 32-acre park is lined with rows of massive trees that twinkle with lights in the winter and offer shade in the summer.

The park was created soon after the previously underwater Back Bay was filled in, becoming the spine of the city's elegant new neighborhood. Designer Arthur Gilman was inspired by the boulevards of Paris, and the area quickly became popular for parades, promenades and carriage races. Not long after it was built, Winston Churchill called it "the grandest boulevard in North America."

Initially planted with elm trees, the park suffered a bout of Dutch Elm Disease in the 1960s that wiped out nearly half of the 600 elms on the mall. Some blocks were left with only two or three trees. The Friends of the Public Garden stepped in to help, planting hardy sweet gum, green ash, oak and maple trees.

The mall is dotted with nine sculptures and memorials between Arlington Street and Charlesgate East. The oldest statue on the mall, sculpted by William Rimmer in 1865, is dedicated to Alexander Hamilton. You'll find it between Arlington and Berkeley streets. Between Clarendon and Dartmouth streets, the Vendome Firefighters' Memorial honors the nine firefighters who died in 1972 at the nearby Hotel Vendome. Between Fairfield and Gloucester, the Boston Women's Memorial is the newest sculpture on the mall, with statues of Abigail Adams, Phyllis Wheatly and Lucy Stone.

These days, the Commonwealth Mall is frequented by joggers, families and the occasional supermodel—Giselle Bündchen was spotted enjoying a classic photo opp during a recent snowstorm.