Peek at the Past: Irish in Boston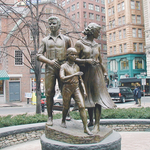 The November election of Marty Walsh signaled a return to a long tradition of Irish-American mayors in Boston. Starting in 1885, Hugh O'Brien of County Cork became the city's first Irish mayor, and in the 1900s, Irish-American politicians held the mayor's seat for 85 out of 100 years. However, Boston's Irish residents weren't always so accepted.
In the mid-1800s, about 100,000 Irish refugees immigrated to Boston to escape their homeland's potato famine—but they weren't exactly met with open arms. Boston's Puritan residents resisted the incoming Irish-Catholics, and the impoverished newcomers were relegated to the slums along the city's waterfront. They were generally stereotyped as being poor and lazy outliers, until eventually, they began to outnumber the Protestants.
When O'Brien was elected mayor, it represented a huge shift in the attitudes of the population, which was by that point about 40 percent Irish-American. During his four terms in office, O'Brien built the Boston Public Library in Copley Square, widened streets and planned the Emerald Necklace park system. He was succeeded by memorable mayors such as James Michael Curley, Maurice Tobin, John "Honey Fitz" Fitzgerald and Patrick Collins.
Today, Boston's Irish Heritage Trail leads visitors on an enlightening stroll past significant structures and memorials, including the Boston Irish Famine Memorial at School and Washington streets, the David I. Walsh Statue on the Esplanade, and Fenway Park, built by Irish immigrant Charles E. Logue.