High Five: Savory Soups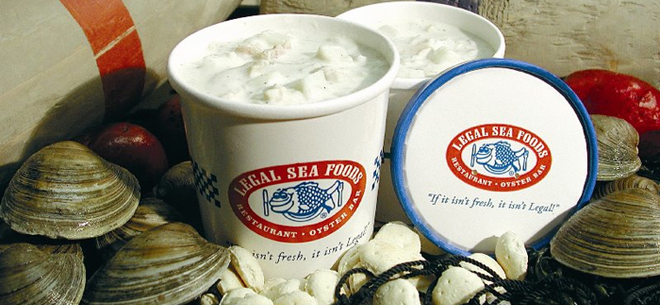 January is National Soup Month, and to honor the occasion, we've rounded up some of Boston's most coveted soups to keep you warm and satisfied through the remaining winter months.

New England Clam Chowder at Legal Sea Foods
. Legal Sea Foods' chowder has been served at every presidential inauguration for the past 33 years. It carved out its own spot in National Soup Month — January 15, which the restaurant has deemed "Chowda Day" —and on its self-made holiday, Legal Sea Foods is serving up a cup of chowder for $1 with the purchase of an entrée to celebrate the occasion.
French Onion at Petit Robert Bistro
. Few soups capture the homey rustic feel of a well-made French onion soup, and Petit Robert Bistro has turned theirs into an art form. Topped with croutons and a sinful cheese crust, this soup is sure to warm you up on a cold winter night.
Pho at Pho Basil
. With their signature dish in the restaurant name, you can't go wrong ordering Pho, a traditional Vietnamese noodle dish, at Pho Basil. Fast service, generous portions, and a mastery of both Vietnamese and Thai cuisine set Pho Basil above the rest, making it Boston's go-to place for Asian food.
Pozole at Taqueria Jalisco
. If you're looking to spice things up, venture out to Taqueria Jalisco, a hole-in-the-wall restaurant in East Boston that has made a name for itself as the homiest Mexican restaurant in Boston. Head over on the weekend for a bowl of authentic pozole, a spicy stew chock full of meat and maize.
Triple Strength Chicken Vegetable at New England Soup Factory
. Co-owned and run by a husband and wife who bonded over a delicious bowl of homemade chicken soup, New England Soup Factory was awarded Boston Magazine's Best of Boston award four years in a row. Their extensive menu is sure to satisfy whichever craving you have, but their chicken soup is the one that started it all.