North End Historic Sites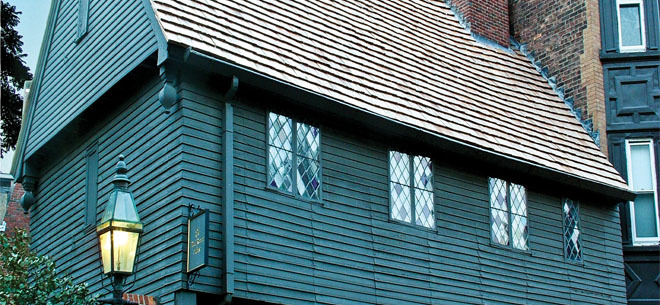 Paul Revere House (19 North Square, 617-523-2338, paulreverehouse.org, pictured): The oldest standing residence in Boston, this historic home was built around 1680 and was home to its namesake and his family from 1770–1800. This well-preserved Colonial-era edifice is a stop on the Freedom Trail.

Old North Church (193 Salem St., 617-523-6676, oldnorth.org): Remember "one if by land, two if by sea" from your U.S. History class? This is the spot from where the signal was sent that alerted revolution-minded colonists of British troop movements in 1775. Officially known as Christ Church and still an active house of worship, this famed lantern-hanging site was built in 1723 and is a favorite fixture on the Freedom Trail.

Copp's Hill Burying Ground (Hull Street): Founded in 1659, this is the city's second oldest cemetery, after fellow Freedom Trail site King's Chapel Burying Ground (1630). Interred here are the Mather family of Puritan preachers, Edmund Hartt (builder of the USS Constitution) and Robert Newman, the man who hung the signal lanterns in the steeple of the Old North Church on the eve of the American Revolution.

St. Stephen's Church (401 Hanover St.): The only church left in Boston designed by the father of American architecture Charles Bulfinch, St. Stephen's—originally a Congregationalist house of worship known as the New North Church when it was dedicated in 1804—is an active Catholic Church. Rose Fitzgerald Kennedy, native North Ender and matriarch of the iconic political family, was baptized here in 1890.

Clough House (21 Unity St.): Located next to the Old North Church, this 18th-century home today hosts Captain Jackson's Historic Chocolate Shop, where visitors can learn how cocoa confections were made in pre-Revolution days, and the Printing Office of Edes & Gill, a replica of a Colonial Era print shop complete with historical interpreters who demonstrate how their vintage equipment was used.