Non-Italian North End Eats
Go beyond the ristorantes, trattorias and caffes in Boston's
Theo's Cozy Corner (162 Salem St., 617-241-0202): Breakfast in the North End? You can get that, as well as lunch, at this neighborhood staple known for generous portions of pancakes, waffles and eggs. Brazil serves as the main inspiration for a selection of specialties that are served with rice and beans.

Goody Glover's (50 Salem St., 617-367-6444, goodyglovers.com): Named for an Irishwoman who was the last person to be hanged for witchcraft in Boston, this Hibernian-themed bar and restaurant is a nod to the days when the North End was a haven for Irish immigrants. Enjoy a pint of Guinness and fish & chips or shepherd's pie on the seasonal patio.

Ward 8 (90 N. Washington St., 617-823-4478, ward8.com): Given that it is named for an alcoholic beverage—a mixture of bourbon, orange, lemon and grenadine that was invented in Boston—it makes sense that this American bistro is focused on classic cocktails. As for the menu, comfort food such as juicy burgers, mac & cheese and the lobster roll (pictured above) are highlights.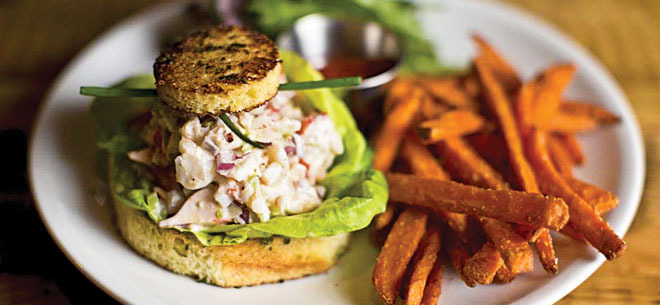 Lulu's Sweet Shoppe (57 Salem St., 617-742-0070, lulussweetshoppeboston.com): Don't know tiramisu from torrone? Then head to this retro American bakery offering gourmet cupcakes, cookies, homemade ice cream and more in the heart of cannoli country.

Billy Tse
(240 Commercial St., 617-227-9990,
billytse-boston.com): Located near the less restaurant-laden waterfront, this Asian eatery boasts a wide array of Chinese, Japanese, Thai and Vietnamese specialties, along with a sushi bar and a tempting selection of exotic cocktails.