"Pedal in Pink" at The Handle Bar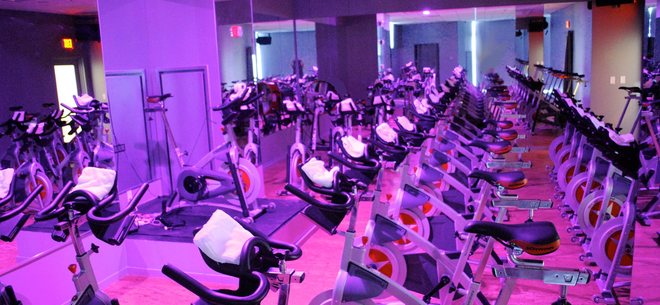 The Handle Bar, an indoor cycling studio located at 141 Dorchester Ave. in South Boston, is hosting a "Pedal in Pink" class to honor National Breast Cancer Awareness Month. Each Wednesday at 7 p.m. throughout October, the studio will be illuminated with pink lighting and riders are encouraged to come in their favorite pink gear. Whether you're a beginner or an experienced rider, you'll be breaking a sweat during this fun, upbeat class. At the end, pink Vitamin Water will be available to help participants celebrate and rejuvenate.

"You're doing two great things at once," owner Jess Bashelor says. "You're showing up for an awesome workout and you're also helping a great cause." The Handle Bar is partnering with the Ellie Fund, a nonprofit organization based in Newton that was founded to help fight breast cancer by supporting victims and their families. Fifty percent of proceeds from these classes will go toward the fund, which takes care of everyday tasks for patients like childcare, grocery delivery, and transportation, so they can focus on getting better instead of worrying about what to cook for dinner or how they'll get to their next appointment. In addition, special-edition pink tank tops and long-sleeve tees will be available, with 20 percent of those proceeds going toward the Ellie Fund.

This is the first time that The Handle Bar has hosted this program, but their first class was a huge success with 20 riders dressed in pink. Although spin classes are usually most popular among women, men are welcome and encouraged to attend. Similar to the "Pedal in Pink" classes, this studio has two to three themed classes per month, adding a bit of variety to what you'll find in a typical class.

One aspect that sets The Handle Bar apart from other studios in Boston is its emphasis on music, both through sound quality and content quality. Their goal is to introduce students to new music in a variety of genres: pop remixes, house music, alternative, hip-hop, and R&B, among others. As Bashelor says, and as anyone who has been to a spin class knows, "The spin class is only as good as its instructors and its music."

These "Pedal in Pink" classes will be taught by Alexa at 7 p.m. on Oct. 9, Oct. 16, and Oct. 23. Riders should dress in workout gear – preferably pink – and cycling shoes are available for rental for those who don't have a pair. For more information and to reserve a bike, visit handlebarcycling.com.