Get Outside!
Enjoy some exercise, fresh air and cool fall weather at one of these destinations for great Boston area hiking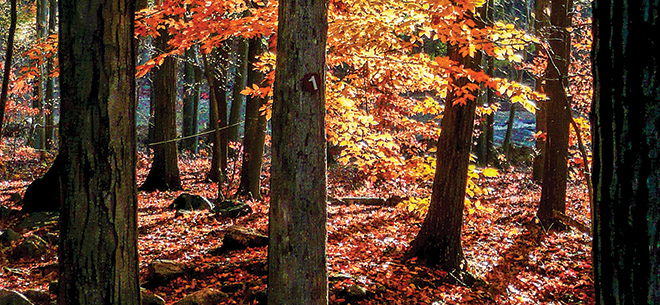 Photo courtesy of Blue Hills Trailside Museum
Franklin Park (1 Franklin Park Rd., 617-635-4505, boston.gov/parks/franklin-park): The Frederick Law Olmsted-designed link in the famed Emerald Necklace offers wooded trails along with a zoo, athletic fields and a golf course.
Arnold Arboretum: The 281-acre, Harvard University-run botanical garden also boasts pathways to wander amongst as well as guided tours and a handful of hills offering scenic views of the city.
Boston Nature Center & Wildlife Sanctuary (500 Walk Hill St., Mattapan, 617-983-8500, massaudubon.org/get-outdoors/wildlife-sanctuaries/boston-nature-center): Operated by Mass Audubon, this educational center allows visitors to perambulate through habitats teeming with natural beauty.
Blue Hills Reservation (695 Hillside St., Milton, 617-698-1802, mass.gov/locations/blue-hills-reservation, pictured): This vast wilderness to the south of the Hub features 125 miles of trails of all types and the 635-foot Great Blue Hill, and even houses a ski area and a natural history museum.
Middlesex Fells Reservation (4 Woodland Rd., Stoneham, 617-727-5380, mass.gov/locations/middlesex-fells-reservation): Intersecting several suburbs just north of Boston, the 2,575-acre Fells offers a variety of terrain to traverse, along with landmarks like the Cascades waterfall and Wright's Tower with 360-degree views of the surrounding area.
Lynn Woods Reservation (106 Pennybrook Rd., Lynn, 781-477-7123, lynnma.gov/departments/lynnwoods.shtml): Much like the Fells, this pristine, 2,200-acre parkland hosts paths for both beginners and experts, as well as a golf course, ponds, ocean views and the mysterious Dungeon Rock.