Boston Accent: Farm Fresh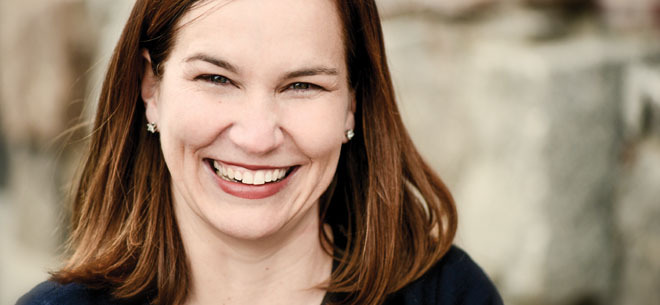 Liz Morningstar, CEO of Boston Public Market, is nothing less than a grade-A foodie. As a dedicated cook, she has fostered a lifelong love of markets. In fact, she's confessed to preferring grocery shopping to shoe shopping. In late July, Morningstar debuted her biggest project to date—the Boston Public Market, a massive year-round, indoor market that sells only fresh, locally sourced products. It's the first of its kind in the United States.
In 1991 Boston sold a parcel of land by historic Haymarket, near Faneuil Hall Marketplace, to the state as part of the infamous Big Dig tunnel project. The city's one request was that the lot be used for a market. Decades later, through a mix of public and private funding, that dream has finally become a reality. "It's been a long time coming," says Morningstar. "Some people have been working on this for over 20 years."
The market, located above the Haymarket MBTA station, is a local food oasis, featuring 35 vendors representing farms, small businesses and local producers. Although products from all over New England are available, 95% of the goods are from Massachusetts. Vendors not only offer fresh ingredients and prepared meals, but also advice on how to prepare the food. Visitors can pick up a homegrown lunch and eat it picnic-style on the Rose Kennedy Greenway across the street. "We are unlike any other market in the U.S.," states Morningstar. "We offer a connection with the person who grew or made what you're buying."
The Boston Public Market experience extends beyond shopping. The market includes an educational space called The Kitchen, run by the preservation-minded non-profit Trustees of Reservations, which hosts cooking classes and workshops. The Trustees have also formed a partnership with REI—the renowned sports outfitter offers fitness classes on the nearby Greenway to promote well-rounded, healthy lifestyles.
When perusing the market aisles, take special note of Cornerstalk, a group operating out of East Boston that grows produce in freight containers. One container can yield a crop equivalent to an acre of land. It's innovative businesses like this that Morningstar hopes to bring to the public eye. For visitors and locals alike, the market is a one-stop location to experience the unique bounty of Boston. While a grocery store might have an array of 10 types of fish to choose from, the Boston Public Market offers 55 different species from around the state. As Morningstar declares, "It's a way to get to know Boston that's unlike any other."