Boston Accent: Sharp Skater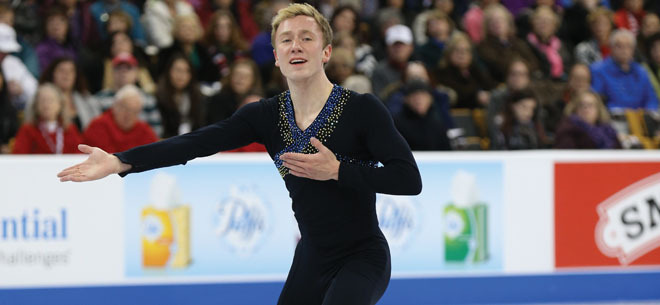 Ross Miner has been skating since the age of 3. "I'm originally from Vermont," he says, "and it's like a birthday party skill up there." What may have started as a fun way to celebrate with friends has turned into Miner's passion. He has an impressive record; he's a three-time U.S. medalist, most recently having won the silver medal in the U.S. National Championships in 2013. This past fall he represented the United States in the Autumn International Classic. Currently the 23-year-old is training for the 2015 U.S. National Championships in Greensboro, North
Carolina, later this month.
When he turned 12, Miner faced a choice between continuing to skate recreationally in Vermont and moving to Boston to pursue his passion full-time. He took the plunge and chose the Skating Club of Boston as his home base. Although he was an underdog when he arrived, having had little professional training, Miner quickly rose to the top.
He creates his programs with his coach Peter Johansen and sometimes with the help of an outside choreographer, giving him quite a bit of creative freedom. "It's a collaborative process," he says. "I want to feel completely in control of my own skating, to go out and have fun." For the upcoming competition, Miner's short program is choreographed to Marvin Hamlisch's "The Way We Were" and the long program is set to Andrea Bocelli's "Romanza." Classic, romantic songs best complement Miner's elegant, traditional skating style.
Miner trains five days a week for three hours on the ice and additional time off the ice, plus he coaches junior skaters on his training days. "It helps my skating to coach them," he says. "When I correct one of their mistakes I have to think 'Wait, sometimes I do that, too.'"
There are other perks to his work on the ice as well. "The Boston area especially has really great charity events," he observes. "That's rewarding for me in a whole different way." One event that he's particularly fond of is An Evening with Champions, when award-winning skaters from the club perform to raise money for the cancer-fighting Jimmy Fund.
Long term, Miner plans to continue his successful season and qualify for the 2016 World Championships that will be held right here in Boston. One thing's for sure, he's never regretted his choice to move. "I've been in Boston for 11 years and I think it's the greatest city in the world to skate in."