Boston Accent: Time to Shine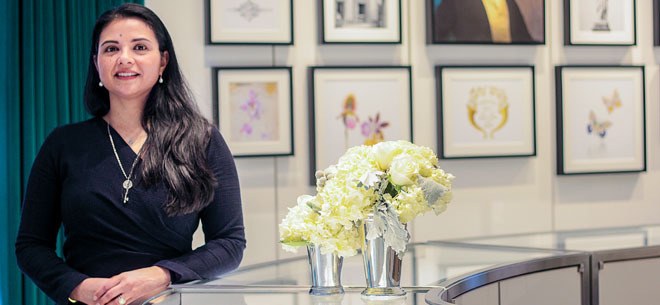 Stepping into the new Tiffany & Co. on Newbury Street is like entering a diamond oasis. Concrete sidewalks and imposing buildings melt into an intimate, warmly lit space that sparkles from every corner. Jennifer Sciolto, group director at Tiffany & Co. Boston, has been with the venerable jeweler for 15 years, and this is her favorite location yet. "This is our most beautiful store," she declares. "The best part is this incredible natural light. You don't get that in a mall."
Its Newbury Street home is Tiffany's first street-facing space in Boston, and the location couldn't be more perfect. Its neighbors are the illustrious Boston Public Garden and the Taj Boston Hotel. The Taj's four-star café supplies champagne and hors d'oeuvres for Tiffany & Co.'s parties and special events. Perhaps the most convenient part of the new branch is its proximity to the outpost at Copley Place. "If you work with a specific sales
associate at Copley they can meet you over here," says Sciolto. "Our sales team is second to none."
For the romantic month of February, Sciolto recommends the Enchant collection. One of its motifs is a subtle diamond heart that appears in the form of earrings, a necklace and a matching ring. The heart gets across the theme of love, yet the design keeps the look understated.
Sciolto says she doesn't consider Tiffany & Co. to be just about jewelry. Most people choose a Tiffany treasure to commemorate an important event. "You're building your jewelry wardrobe by celebrating those big moments in life," she observes. "In that way every item is a memory." Sciolto herself has been present for many of those memories. She has advised countless buyers on engagement rings, 16th birthday presents and anniversary gifts. She smiles, remembering one customer who came in for a "push ring" for his pregnant wife. "He thought nothing would motivate her to get the baby out more than a diamond!"
Sciolto sees Tiffany jewelry, in particular its line of engagement rings, as an investment. "It's a beautiful thing to pass a Tiffany ring on to future generations." The classic design of the Tiffany Setting engagement ring, with diamonds up to three carats, is simply timeless.
Tiffany & Co. has been a purveyor of diamonds for 178 years and the daydream of Audrey Hepburn fans everywhere for 54. Now Jennifer Sciolto and the Tiffany team have made the exquisite Newbury Street store into a jewelry lover's heaven.