Splendor in the Grass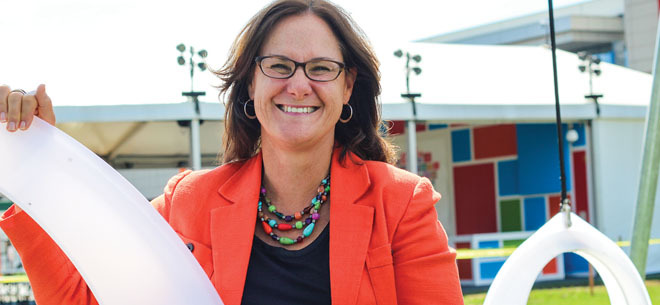 The best kept secret in Boston nightlife (and day life) is hidden behind the Boston Convention and Exhibition Center in South Boston. The Lawn on D is an outdoor event space that resembles an adult playground, and for Director of Strategic Planning for the Massachusetts Convention Center Authority Beth Torrey, it's her office. Since opening in August 2014, the Lawn has hosted dozens of innovative art exhibits, concerts and festivals. "It's really something that you can't see anywhere else," says Torrey.
The Lawn is open daily from 7 a.m.–10 p.m., weather permitting, and has a wealth of opportunities for fun. A large stretch of grass is home to art installations and lawn chairs for lounging. Oversized games like corn hole, bocce, ping-pong and Jenga are available for group or individual play, and three rows of oval, illuminated, plastic swings beg for attention. The end of the Lawn features a tent housing a stage for musical performances and a beer and wine bar.
For visitors, The Lawn on D is the total package. "The nice thing is you can come here to have dinner," explains Torrey, referring to both the substantial group of food trucks on the Lawn and the restaurant under the tent serving burgers and hot dogs. "The concert might start at 7, but the doors open at 6." After a day of exploring the Hub's historic sites, visitors can unwind in the comfortable lawn chairs and experience the playful side of Boston. On August 17, get your groove on at a triple threat concert with hip-hop artists G. Love and Special Sauce, rock band Big Head Todd and the Monsters, and soul and funk band JJ Grey & Mofro. August 22 sees the Boston Entertainment and Arts Nirvana (BEAN) Festival, including local bands, interactive art, children's activities and an extensive array of food trucks.
More than just an event space, The Lawn on D is a community builder. "There's really something for everyone, all kinds of people interact on the Lawn," states Torrey. She recounts a group of businessmen playing bocce on their lunch break who were interrupted by toddlers mischievously stealing their balls. Before you know it, the unlikely friends were playing like it was recess.
Despite the incredible breadth of events available, Torrey believes the key to The Lawn on D are the simple things. "We'll have a local band here on a Thursday night and have 2,000 people show up," she says. "Sometimes it's as simple as spending time outside with a cold drink and your friends and family."
Photo: Celina Colby