M.C. Spiedo brings the Italian Renaissance to Seaport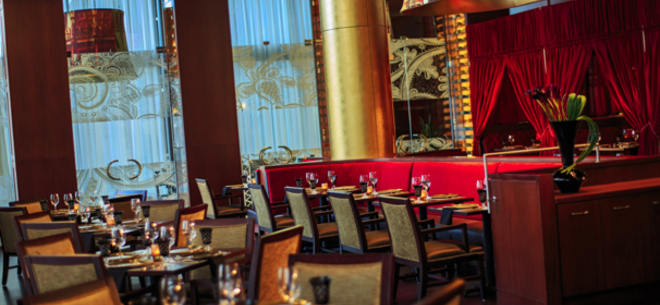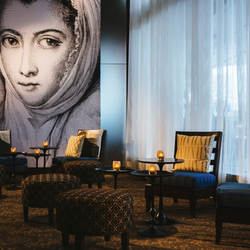 As much as we enjoy the rustic, unfinished look that's popular in new restaurants nowadays, sometimes we crave a more sumptuous dining experience—and M.C. Spiedo delivers. The new Seaport restaurant, situated in the Renaissance Boston Waterfront Hotel (606 Congress Street) was inspired by the opulence of the Italian Renaissance. With deep, curtained booths, soft lighting, and a palette of gold and crimson, the place has a vaguely palatial feel.
The theme continues with the menu, created by James Beard Award-winning chefs Mark Gaier and Clark Frasier of Maine restaurants Arrows and MC Perkins Cove. Most of the dishes are inspired by historic recipes, like the Lasagna from the Borgia Table, a recipe that came directly from the 16th century banquets served at the court of Ferrara. The herb-roasted chicken with apricots, figs and dates is a spin on a dish served in Siena in 1326 to celebrate the knighting of Francesco Bardenelli. And there's even a salad based on a sketch by Leonardo da Vinci. Sound gimmicky? Maybe. But Gaier's and Frasier's skills in the kitchen back up the concept.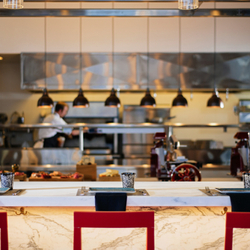 An antipasti bar overlooks the kitchen, while market carts circle the cozy lounge area carrying small bites like deviled eggs, olives and ham salad. There's an impressive wine selection, plus specialty cocktails like the 14th Century Manhattan (Angel's Envy, cherry husk bitters, Capano Antico and Lazzaroni Amaretto) and the Cosimo de'Medici (Bully Boy vodka, Aperol, lime and raspberries).
The restaurant is also open for breakfast and lunch. In the morning, there's a pretty standard selection of eggs, omelets and parfaits, plus a few more adventurous options like lobster benedict and meyer lemon ricotta pancakes with local honeycomb and huckleberry jam. For lunch, there are pizzas, salads, soups and sandwiches with an upscale, Italian twist—artichoke soup with focaccia croutons, Leonardo's veal burger and the Medici pizza with beets, olives, anchovy, ricotta and arugula are just a few things on the current menu.
M.C. Spiedo is open daily. Call 617-476-5606 or visit
mcspiedoboston.com
for more details.