Boston Accent: Power House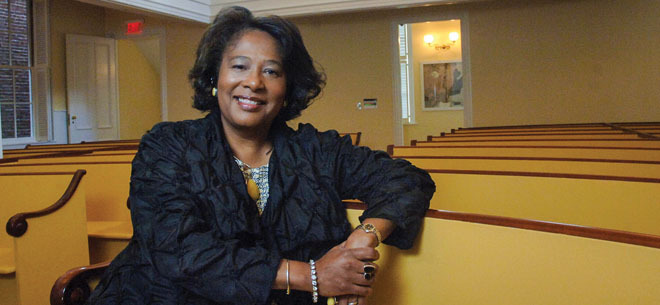 When Beverly Morgan-Welch left her corporate job to be the Executive Director at the Museum of African American History, the organization didn't even have computers. "It was like being in an alternate universe," says Morgan-Welch. In the 15 years she's been there, Morgan-Welch has taken the museum from a one-room operation to a thriving, vital part of Boston's historical community.
MAAH's Beacon Hill campus is comprised of the African Meeting House—the oldest existing black church in the U.S., dating to 1806—and the Abiel Smith School, the first school erected for African American children in the country, which was built in 1835 and houses the exhibition and gift shop spaces. Morgan-Welch was responsible for the 2011 restoration of the African Meeting House, which now reflects its 1855 appearance. She considers
this her crowning achievement. "When people come to the sites they are amazed," says Morgan-Welch. "It makes them question what they know." With each tour, Morgan-Welch hopes to show the often forgotten side of the African American experience in Boston.
The museum has developed several ongoing programs that engage audiences in the history behind the sites. MAAH Music is a concert series run in partnership with the Handel and Haydn Society, Berklee College of Music and the New England Conservatory. Monthly performances celebrate the unique sound of African American music. On May 28, historian Horace Seldon lectures on the origins and progress of the abolitionist movement in "Abolition: How the Cause Became the Movement." The current exhibit in the Abiel Smith School is Freedom Rising: Reading, Writing and Publishing Black Books that highlights the tradition of African American literature, of which the museum has more than 5,000 volumes.
Although the museum is rooted in the past, Morgan-Welch hopes to connect it to present problems and conceptions of race. "I think our stories really help people recalibrate their understanding," she states. "The programs teach us so much about American history. People need to remember who was building the houses and cooking the food and sewing the clothes, who was allowing people to lead lives of leisure."
MAAH is planning its next event around Harriet Tubman, in light of a new movement to put her on the $20 bill. "In the next few years I hope we have to extend our hours to accommodate all our visitors," Morgan-Welch says. "Then I'll know we're making a difference."
Photo: Don West