Peek at the Past: The John Harvard Statue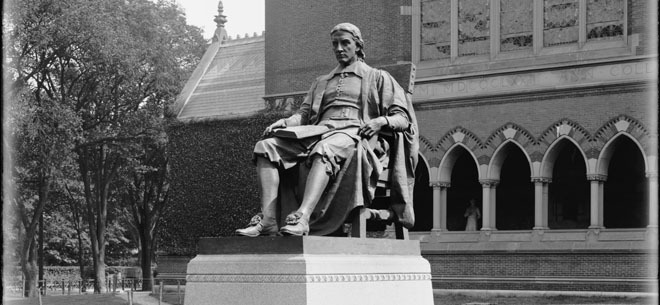 Here's a situation you don't come across too often: a story behind a statue that is more interesting than the person whom the statue honors. This just may be the case with the bronze sculpture honoring John Harvard that sits in famed Harvard Yard.

Although his name graces one of the most famous campuses in the country, John Harvard was a Puritan minister who lived a fairly modest, short and little-documented life. Born in Southwark, England in 1607, he and his wife emigrated to Charlestown in the relatively new Massachusetts Bay Colony in 1637, just a year before he died of tuberculosis. On his deathbed, he bequeathed his library and half of his estate to an as-yet-unnamed college which had just been founded two years prior in nearby Cambridge.
Which leads us to the story of the statue that sits in Harvard Yard. Anyone passing through the heart of Harvard University during a guided tour has probably overheard the familiar phrase declaring the larger-than-life tribute as the "statue of three lies."

Created by famed Lincoln Memorial sculptor Daniel Chester French and unveiled in 1884, the statue does not, as far as anyone knows, resemble the real John Harvard. This is because there is no record of what Harvard looked like, so a recent graduate sat in as French's model.

The next two "lies" are perhaps more egregious. Engraving on the statue's base proclaims John Harvard as "Founder" of the college, yet it was named after him for being one of its earliest and greatest benefactors—not its actual founder. The inscription also states the date of the founding of Harvard's namesake school as 1638, when it was established in 1636 by the Great and General Court of the Massachu­setts Bay Colony.
As the statue stands on the grounds of an academic institution, this is all the subject of lively debate. One could argue that although John Harvard wasn't the founder, he was a founder, due to his instrumental donation in the school's early years. If the previous statement is true—and it is also true that said generosity did occur in the year 1638—it also holds that his role in the founding of Harvard did indeed occur the year marked below the statue, leaving us with a very forgivable "statue of one lie" situation.
Regardless of all this, the statue remains a beloved icon. Though it has been defaced over the years by vandals from rival Ivy League schools, the "portrait" of John Harvard remains as stoic as ever as it sits on an illustrious perch next to University Hall in Harvard Yard, a position it has enjoyed since it was moved from its original spot in front of nearby Memorial Hall in 1924 (above left). Harvard's left foot (above right), due to constant rubbing by visitors for good luck, boasts a sheen of burnished gold, so if you stop for a visit, give it a try. John won't mind.