Bar Tab: Commonwealth's disco cocktails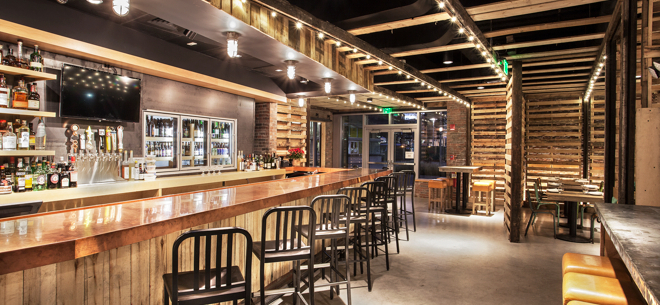 Commonwealth in Cambridge has devoted a lot of thought to the art of the cocktail. From adjusting the prototypical "Rum and Coke" to include Mexican Coke – with real cane sugar – instead of Classic Coke, to adding a dash of gin to balance out the flavor on this "cheesy classic," Commonwealth approaches their cocktails with a truly fresh perspective.
We visited Commonwealth when it first opened in November, and noted the unique farm stand atmosphere (
read our review here
). Homemade cheeses and granola, sliced meats and freshly baked macaroons are available for purchase at the counter just inside the entrance. Continue on, and you'll find a rustic seating area and a copper-topped bar.
We spoke to bartender Katie Soule, who broke down the drink menu for us. It's split into three parts: Classic Cocktails, Commonwealth Classics, and Cheesy Classics. The latter includes favorites such as Pina Coladas and Mojitos, but with an updated twist. "We like to take disco-era cocktails and make them taste good," she says.
The cocktail menu, just like the food menu, adopts the "farm-to-bar" standard (similar to "farm-to-table"), using local ingredients from local sellers. The menu is adjusted every few months based on the ingredients that are in season and available at New England farm stands.
The Commonwealth Classics section of the menu is devoted to in-house creations. "Justin [Ito-Adler] came up with the ingredients, and left it up to us to figure out the proportions," Soule says of Commonwealth's beverage director.
Soule says that the CW Punch, which changes weekly, and the "Roll the Dice" options are the most popular on the menu, which speaks volumes about the talent and drink knowledge of the bartenders. With "Roll the Dice," you tell the bartender what flavors you like, and they'll create a cocktail from scratch based on your interests.
We decided to try something on-menu, and went with "The Nookie," named after chef/owner Steve "Nookie" Postal. Soule generously shared the recipe for this tasty, and perfectly portioned, drink:
2 ounces Carpano Antica
1 ounce Rye
2 dashes Whiskey Barrel Bitters
½ ounce of Vermont maple syrup
Ice
Mix all ingredients together. Stir well for about one minute. Strain into glass. Drink. Repeat.
Visit Commonwealth at 11 Broad Canal Way in Kendall Square, Cambridge. For more information, head to
commonwealthcambridge.com
.