International Poster Gallery hosts a delectable exhibit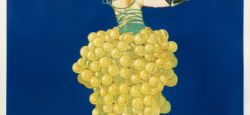 Way back in the 1890s in France, chic Parisians were more likely to eat in cafés, bars and restaurants than they were to dine in their own homes. Advertisers got smart, and thousands of eateries throughout Europe became home to colorful posters that combined decoration and advertising. Today, these vintage posters are popular collectors' items.
The International Poster Gallery (205 Newbury St.), celebrating its 20th anniversary this year, features an expansive collection. The gallery is owned by Jim Lapides, a poster connoisseur who started his career as a collector. After pursuing a degree in Art History and studying the Italian Renaissance abroad in Italy, he returned to the United States and has been selling posters for the past six years.

The International Poster Gallery's newest exhibition, A La Carte, features original vintage posters of food and beverages by artists like Cheret, Cassandre and Cappiello. Eras range from the Belle Époque of the 1890s through the mid-20th century. "The posters, very simply, are beautiful," Lapides says of the collection. "The images are not only beautiful, but they're fantastic advertising and they reflect on the cultures that produced them." This genre of posters is particularly appealing because of the positive feelings that they evoke. In Lapides' words, "These posters are festive and they're about enjoying life. People love to have them in their homes."

Lapides spent 10 years trying to track down "Champagne Joseph Perrier" by Joseph Stall. The poster features a jubilant woman who seems to have morphed into a grape-mermaid, complete with a jester's hat atop her head. Lapides points out that this is a metaphor for the whole category. "It is good times, it is fun, it is playfulness and unbridled enthusiasm." This type of poster is particularly effective for advertising since it immediately catches your eye.

While the majority of the posters come from France, there are pieces from Italy, Switzerland, Germany, England and the United States as well. Fifty will be on display, but Lapides' collection consists of about 400. The myriad posters range from less than $500 up to $10,000 for the exceedingly rare ones. The exhibition will be on view through Nov. 22. Find out more at internationalposter.com.