A Peek at the Past: Majestic Theatre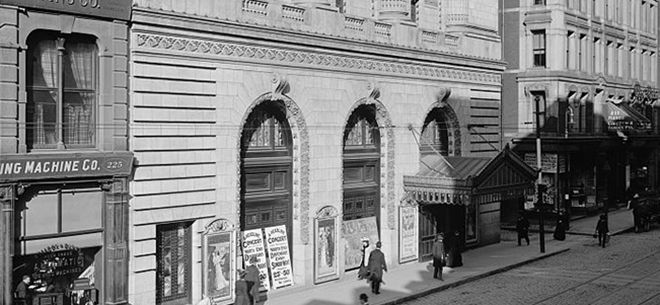 Officially know as the Emerson/Cutler Majestic Theatre these days, the Majestic Theatre in Boston's venerable Theatre District is one of the city's oldest active playhouses. As such, it has a long and colorful history dating back to its debut in 1903.
One of only three theaters commissioned by Eben Dyer Jordan—the scion of the founder of the dearly departed, Hub-based Jordan Marsh department store chain—and designed by architect John Galen Howard in the Beaux-Arts style, the Majestic Theatre boasted a classically inspired exterior and an ornate interior adorned with gilded plaster decorations. Initially a home for theater, dance and opera, the Majestic was influential for its pioneering use of cantilevered balconies, acoustic design principals and, perhaps most importantly at the time, electric lights.
In the post-World War I years, the Majestic was briefly used as a vaudeville venue before eventually playing host to a combination of live shows and film. In 1956, new ownership converted the theater into a first-run cinema, re-naming it the Saxon.
The decline of single-screen movie houses, however, led to a slow deterioration that reached its nadir in the late 1970s. Purchased by Emerson College in 1983, the school restored the building to its original glory with a series of renovations that began in 1988 and ended in 2003, when the edifice was re-named in honor of a prominent benefactor. Now on the National Register of Historic Places, the Emerson/Cutler Majestic Theatre today features a variety of student and professional productions. Currently on stage is
Cuisine & Confessions
, a unique show by famed Montreal-based circus troupe The 7 Fingers that blends a cooking show with acrobatics, dance and storytelling. For more information, visit
artsemerson.org
.