Square Meals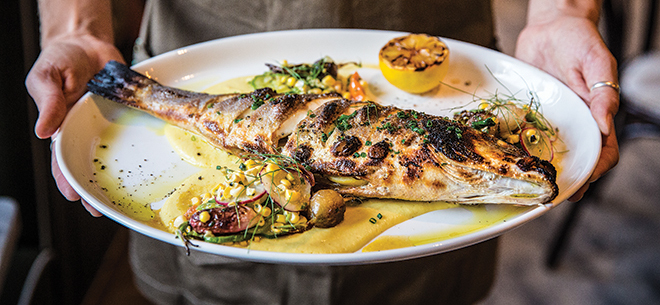 Photo: Galdones Photography
Harvard Square has long been a dining hot spot, yet its temperature continues to rise with the recent openings of two well-pedigreed restaurants.
The Hourly Oyster House
(15 Dunster St., Cambridge, 617-765-2342,
thehourlycambridge.com
), brought to us by the folks who run the nearby Irish-themed Grafton Street Pub & Grill, promises plenty of fresh fare from the sea, including a colossal seafood tower boasting eight different types of oysters. In addition, Michael Scelfo, the chef behind Harvard Square's acclaimed Alden & Harlow, debuted
Waypoint
(1030 Massachusetts Ave., Cambridge, 617-864-2300,
waypointharvard.com
, pictured) across the square from that eatery in late August. Waypoint is another great destination for seafood lovers, offering more nautically inspired cuisine—from whole roasted black bass to a raw bar featuring oysters, crudo and even caviar—along with pizza, pasta and a gigantic 24-ounce rib eye, enough for two to three diners.