A Peek at the Past: The Swan Boats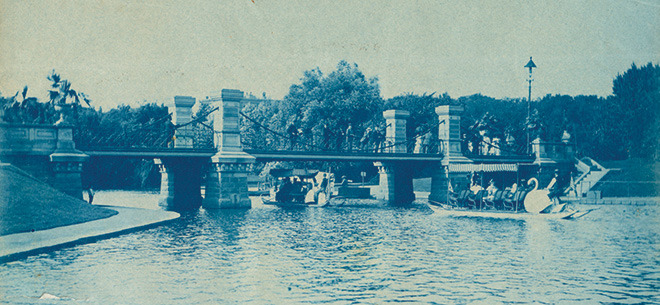 Photo: Thomas E. Marr, 1909/courtesy of Boston Public Library
Just as the temporarily mothballed Frog Pond Ice Skating Rink is a local wintertime staple, the nearby Public Garden is home to another beloved seasonal attraction with a far more extensive history. The venerable Swan Boats, a sure sign of spring in Boston, have been quietly delighting Bostonians and visitors alike since 1877, all under the auspices of the same family that first brought these stately craft to the Public Garden Lagoon all those years ago.
Inspired by Richard Wagner's German opera Lohengrin—in which the title character, a mythical Grail knight, is escorted across a river in a boat pulled by swan in order to defend a princess—Robert Paget created the first pedal-powered swan boat on the Public Garden's tranquil, man-made pond. At that time, the rowing of boats was a common fair-weather leisure activity on the waterway, yet Paget, using a foot-propelled paddle wheel inspired by the increasing popularity of the bicycle, chose a more original path. With the boat captain covered by an elegant swan enclosure, the newly minted Swan Boats were an immediate success. Paget would not live to see the fruits of his triumph, however, as he passed away at the age of 42, only a year after his invention made its debut.
Julia Paget, Robert's widow, assumed control of the operation in 1878. Times were not friendly to female business owners, however, and, in the early years of her ownership, Julia had to obtain signatures from fellow Back Bay proprietors proving that she was capable of running her enterprise. She proved to be more than up to the task, running the Swan Boats until 1914, when the youngest of her sons, John, took over for her. John updated the vessels, enlarging them to accommodate up to five benches. One of these larger boats, first constructed by John in 1910 prior to his ownership, is still in service.
Over the years, Paget descendants have continued to oversee the venture, occasionally updating, improving and adding to the fleet. The Swan Boats are currently under the auspices of fourth-generation owner Lyn Paget, along with cousin Phil Paget. The boats were designated a Boston landmark in 2011, and the fame of the boats are so great that they have been featured in not one, but two classic children's stories: Robert McCloskey's 1941 ode to perambulating waterfowl, Make Way for Ducklings, and E.B. White's 1970 paean to a bugling bird, The Trumpet of the Swan.