A Peek at the Past: Boston Harborfest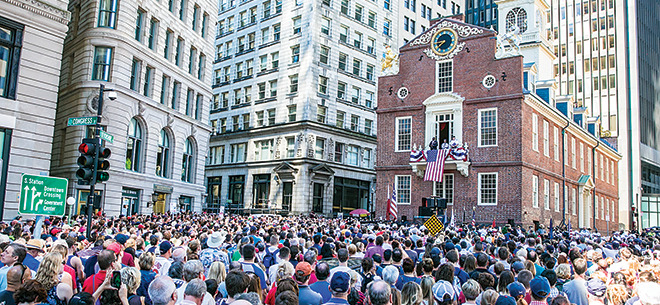 Photo: Kyle Klein Photography/Mass. Office of Travel & Tourism
As the grand patriotic festival that is Boston Harborfest celebrates its 36th year, it's a good time to look back at how this Independence Day-themed, multi-day birthday bash for the U.S. has evolved.
Billed as the largest Independence Day celebration in the country, Boston Harborfest had humble beginnings. Now a five-day extravaganza, this year beginning on June 30, it started in 1982 as a three-day event that encompassed a few dozen activities. Over the years, some parts of Harborfest—like the fireworks display and the annual Chowderfest for local clam chowder supremacy—have come and gone (although Chowderfest makes its triumphant return this year, July 2 from 11 a.m.–2 p.m., at its new location in Christopher Columbus Park on the North End waterfront), yet the whole affair still retains its tried-and-true, red-white-and-blue heart among its hundreds of happenings. Early highlights include the opening ceremony at Faneuil Hall Marketplace on June 30 at noon, which includes a cake cutting by Mayor Marty Walsh, and Arts at Harborfest at Christopher Columbus Park on July 1, which features local artists selling their wares, musical entertainment later in the evening and a screening of the patriotic favorite Yankee Doodle Dandy.
No Fourth of July would be complete without a reading of the Declaration of Independence. The first reading in Boston took place from the balcony of the Old State House (pictured) on July 18, 1776. This year, a dramatic free reading takes place at the Old North Church on July 4 at 1, 3 and 5 p.m. in addition to the annual re-enactment at the Old State House. Other highlights include free events like daily scavenger hunts at the Boston Public Market, colonial chocolate making demonstrations at Captain Jackson's Historic Chocolate Shop in the North End and a Fourth of July parade. There are a number of ticketed events as well, from harbor cruises and whale watches to special historic tours and musical performances. There's also Revelry on Griffin's Wharf at the Boston Tea Party Ships & Museum on July 1–3 from 7–9 p.m. In addition to the museum's usual throwing-of-tea-into-the-sea shtick, visitors can enjoy games, food and drink, and interactive entertainment from 18th-century costumed actors who bring colonial merrymaking to vivid life.