10 Top Spots for North End Sweets
Most North End restaurants don't serve dessert for a reason—these cafes, bakeries and pastry shops keep your sweet tooth satisfied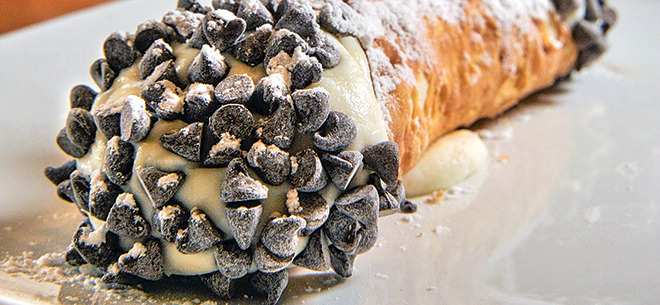 Photo: Jazz Martin
Gelateria and Cannoli Factory
More flavors than there are colors in the rainbow can be found at this chic gelato purveyor (pictured), perfect for a cooling (and tasty) respite while strolling the sweltering streets of the North End on a hot summer day—plus, you can get a cannoli custom-filled to order.
272 Hanover St., 617-720-4243, gelateriacorp.com
Bova's Bakery
Craving pizzelle, sfogliatelle or whoopie pies filled with real whipped cream at 3 a.m.? Open 24/7, Bova's has been a go-to late-night spot since it debuted in 1932.
134 Salem St., 617-523-5601, bovabakeryboston.com
Parziale's Bakery
A North End institution, Parziale's lays claim to introducing pizza to Boston. The real draw, however, is the bakery's wide array of cookies, pastries and fresh-baked bread.
80 Prince St., 617-523-6368, parzialebakery.com
Lulu's Sweet Shoppe
Lulu's offers delicious homemade ice cream, but here the cupcake still rules. Enjoy varieties ranging from red velvet cheesecake and chocolate cherry bomb to tiramisu and pistachio with port wine.
28 Parmenter St., 617-742-0070, lulussweetshoppeboston.com
Mike's Pastry
Cannoli is king at Mike's, whose ubiquitous blue-and-white take-out boxes can be spotted in the hands of hungry visitors all over town. Also check out a satellite location in Harvard Square and the just-opened Assembly Square outpost in Somerville.
300 Hanover St., 617-742-3050, mikespastry.com
Caffe dello Sport
This corner bar lives up to its name, serving up live international soccer matches along with dessert.
308 Hanover St., 617-523-5063, caffedellosport.us
Caffe Vittoria
The North End's oldest Italian cafe has been offering cappuccino, tiramisu and more since 1929.
290–296 Hanover St., 617-227-7606, caffevittoria.com
Caffe Paradiso
This authentic Italian hangout boasts a wide variety of treats, including fresh homemade gelato.
255 Hanover St., 617-742-1768, caffeparadisoboston.com
Modern Pastry
From cannoli to biscotti and torrone to pizzelle, Modern has all your Italian dessert cravings covered, as well as American specialties like apple pie and brownies.
257 Hanover St., 617-523-3783, modernpastry.com
Maria's Pastry Shop
A longtime insiders favorite, Maria's always fills its cannolis fresh when you order them. Other Old World specialties include biscotti (pictured), as well as aragosta ("lobster tail") and zuccherati pastries.
46 Cross St., 617-523-1196, mariaspastry.com