Boston Accent: Boston's Arts Hub
Gregory Ruffer, president and CEO of the Boston Center for the Arts, touts the institution's diverse array of offerings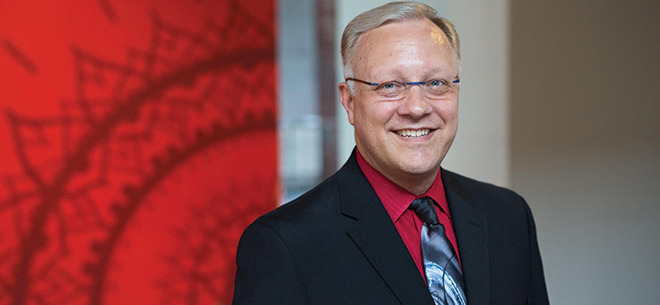 If the Boston Center for the Arts is a multidisciplinary stage for the Boston arts scene, BCA president and CEO Gregory Ruffer is the man behind the curtain. Ruffer joined the BCA a year ago and is still "excited every day to come to work. The BCA is interdisciplinary and I have backgrounds in music, theater and dance, so it is a terrific fit," he says. "I get the opportunity to influence the growth and the prevalence of the arts here in Boston."
Ruffer describes the BCA as a "cultural village," where multiple arts organizations and individuals create and share their work—with each other and the public—at one campus in Boston's South End. In addition to four theaters and resident theater companies, there is the Mills Gallery, the Cyclorama events space, numerous artist studios and even two restaurants.
Among the many reasons to visit this October is the the 21st annual Boston International Fine Arts Show (BIFAS) at the Cyclorama from October 19–22. Ruffer applauds BIFAS organizer Tony Fusco for his decades of dedication. "Tony is able to bring together contemporary and important historical art into one place, in one warm, immersive experience. There is such a wide panorama of artistic works on display that there really is something for everyone." Nearly 40 galleries from across the United States, Europe and Canada are participating this year.
In addition to BIFAS, an inaugural Boston Art Book Fair presented with Bodega takes place the same weekend (October 21–22), a few doors down from the Cyclorama in the Mills Gallery. "The Art Book Fair is the brainchild of Randi Hopkins, our director of visual arts," Ruffer explains. "Randi has been to art book fairs on the West Coast and in New York, and had a vision of bringing an art book fair to Boston. It's not just about books. It's a real convening of the arts community. There will be special presentations…and it is open to the public."
While these two events promise a wonderful experience, there is still much more to do at the BCA. "If it's your first time on the Boston Center for the Arts campus,…look and see what else we have," Ruffer urges. "There is always so much happening!"
Boston International Fine Art Show
October 19–22 at the Boston Center for the Arts' Cyclorama, 539 Tremont St., 617-363-0405, fineartboston.com. $15; Gala Preview: $125 & 250.