High 5: Pumpkin Treats
Indulge in the seasonal gourd by seeking out a wide variety of sweet, spiced items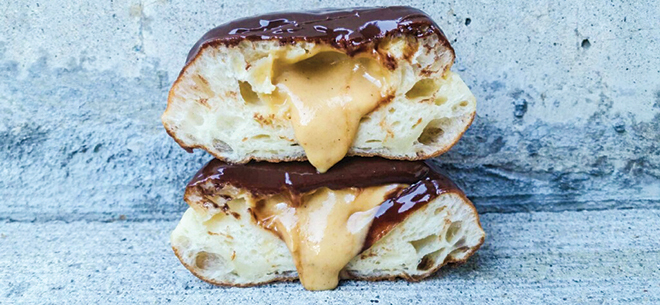 Pumpkin Boston cream Bismarck (Blackbird Doughnuts, 492 Tremont St.; 20 Kilmarnock St.; 617-482-9000, blackbirddoughnuts.com, pictured): This rich brioche doughnut, available at both the original South End and newer Fenway locations, literally bursts with custardy, pumpkin spicy goodness.
Marzipan pumpkin (L.A. Burdick Chocolates, 220 Clarendon St., 617-303-0113; 52 Brattle St., Cambridge, 617-491-4340; burdickchocolate.com): Hand-crafted from fresh almonds, pumpkin and spices, these delightful confections are ensconced in dark, milk or white chocolate.
Pumpkin pie (Bar Boulud, Boston, Mandarin Oriental Boston, 776 Boylston St., 617-535-8800, barboulud.com/boston): A pop-up pie shop at this high-end eatery is available November 6–26 to take orders for five different pies—including the ever-popular pumpkin—all ready for pick-up. Undecided? Sample a slice with your lunch or dinner.
Pumpkin custard ice cream (J.P. Licks, 1106 Boylston St., 857-233-5805; other locations, jplicks.com): A local favorite slinger of cold, creamy scoops, J.P. Licks gets in on the seasonal action with this selection made from pureed pumpkin, cinnamon, nutmeg and molasses.
Pulverizer pumpkin cakes (The Friendly Toast, 35 Stanhope St., 617-456-7849, thefriendlytoast.com): Start your pumpkin feast early—or late, as this restaurant serves breakfast all day—with two pumpkin pancakes stuffed with cheesecake filling and topped with fresh-made whipped cream.