10 Top Spots for Exploring Colonial Boston
Go beyond the Freedom Trail by checking out these area sites where the Hub's British and revolutionary past comes alive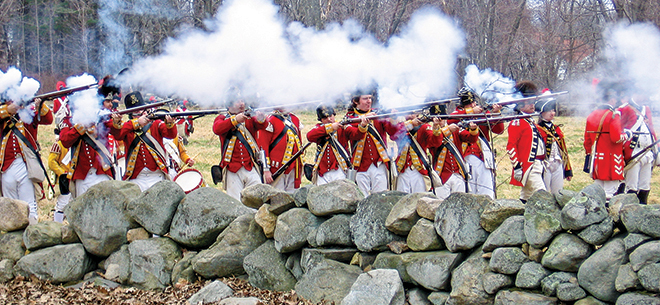 Photo: Mass. Office of Travel & Tourism
Minute Man National Historical Park
This where it all began. Consisting of the battlefield sites of Lexington and Concord where rebels first skirmished with the redcoats on April 19, 1775, this 900-acre park also houses several Colonial Era structures, including a tavern. The historic buildings and the visitor centers (one of which re-opens in March) are closed for the season, but the park is open dusk to dawn.
Concord and Lexington, 978-369-6993, nps.gov/mima
Central Burying Ground
Established on Boston Common in 1756, this historic cemetery is the final resting place of revolution-era British soldiers, American patriots, painter Gilbert Stuart and composer William Billings.
Boylston Street, 617-635-7361, boston.gov
Phipps Street Burying Ground
Soldiers from King Philip's War (1675–1676) and university namesake John Harvard are buried in this cemetery opened in 1630. The site is open by request only.
Phipps and Rutherford streets, Charles­town, 617-635-7361, boston.gov
Clough House
Owned by the nearby Old North Church, this circa 1712 brick structure houses the Printing Office of Edes & Gill, a re-creation of a colonial printing press, and Captain Jackson's Historic Chocolate Shop, which demonstrates bygone chocolate-making techniques.
21 Unity St., oldnorth.com
Longfellow House-Washington's Headquarters National Historic Site
Near the heart of Harvard Square on Tory Row—a gorgeous collection of well-preserved Loyalist mansions—is the former home of 19th century poet Henry Wadsworth Longfellow, which also served as the headquarters for General George Washington during the Siege of Boston from July 1775 to April 1776. The 1759 house is closed for the season, but the grounds are open and group tours can be requested.
105 Brattle St., Cambridge, 617-876-4491, nps.gov/long
Pierce/Hichborn House
One of the oldest brick buildings in the city and a fine example of early Georgian architecture, this circa 1711 structure, operated by the adjacent Paul Revere House, is open for tours.
29 North Square, 617-523-2338, paulreverehouse.org
Boston Tea Party Ships & Museum
Located on the Fort Point Channel near where the iconic protest took place, this site offers two replica ships, artifacts and reenactments with costumed interpreters.
Congress Street Bridge, 855-832-1773, bostonteapartyship.com
Warren Tavern
Built in 1780 in the aftermath of the burning of Charlestown by the Brits, this is one of the oldest taverns in the area, and even hosted George Washington and Paul Revere back in the day.
2 Pleasant St., Charlestown, 617-241-8142, warrentavern.com
Dorchester Heights Monument
This site located in South Boston at the top of Telegraph Hill is the approximate location from which George Washington's troops set up an array of captured cannons, thus driving the British out of Boston on March 17, 1776. The white marble monument, completed in 1902, is beautiful to behold, yet is, alas, not accessible to the public.
Thomas Park, nps.gov/bost/historyculture/dohe.htm
Castle Island
Boasting a history of military fortification going back to 1634, this popular area—now connected to the mainland—offers sweeping views of Boston Harbor, as well as historic Fort Independence, which is built on the site where British troops were stationed during the revolution at Castle Williams.
2010 Day Blvd., 617-727-5290