10 Top Spots in The Fenway
Boasting baseball, art and dining, Boston's most dynamic neighborhood is the Hub's epicenter for culture and entertainment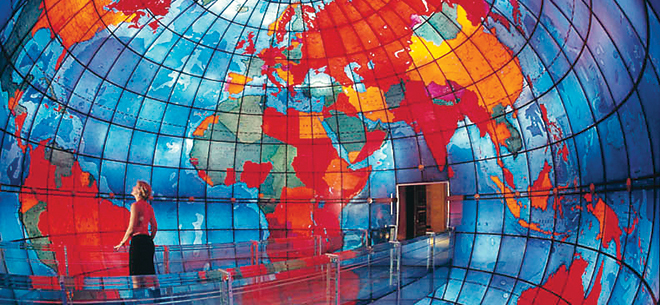 Mary Baker Eddy Library
Step inside the Mapparium—a colorful, three-story stained-glass globe depicting the world as it was in 1935 (pictured)—at this tribute to the founder of Christian Science that recounts her life and works.
200 Massachusetts Ave., 617-450-7000, marybakereddylibrary.org
Fenway Park
Whether checking it out from the stands at a Sox game or by taking a peek behind the scenes, historic Fenway Park—Major League Baseball's oldest stadium, a landmark since 1912—is always a draw. If you can't score coveted seats, tours run on non-game days from 9 a.m.–5 p.m., with a cutoff of three hours before the game when the Olde Towne Team is at home.
4 Yawkey Way, 617-226-6666, mlb.com/redsox
Back Bay Fens
This marshy park, part of the Emerald Necklace, provided the area's name, and boasts community gardens, a rose garden, a playground and athletic fields, as well as a historic visitor center designed by H.H. Richardson.
House of Blues
Located right behind Fenway Park's Green Monster, this concert and dining venue hosts some of music's biggest acts, including Dashboard Confessional (March 30) and Franz Ferdinand (April 10).
15 Lansdowne St., 888-693-2583, houseofblues.com/boston
Isabella Stewart Gardner Museum
This Venetian palazzo-inspired edifice is centered around a lush garden courtyard, and houses priceless masterpieces by such giants as Fra Angelico, Rubens and John Singer Sargent.
25 Evans Way, 617-566-1401, gardnermuseum.org
Eventide Fenway
Dine on classic New England seafood at this fast-casual version of the award-winning Portland, Maine restaurant.
1321 Boylston St., 617-545-1060, eventideoysterco.com
Sweet Cheeks Q
Tiffani Faison's ode to Southern cuisine offers plenty of juicy, slow-cooked meats, as well as her signature biscuits with honey butter.
1381 Boylston St., 617-266-1300, sweetcheeksq.com
Blackbird Doughnuts
Indulge your sweet tooth at this gourmet bakery that offers both yeast-raised and cake-batter varieties of everyone's favorite treat.
20 Kilmarnock St., ​617-482-9000, blackbirddoughnuts.com
Lucky Strike Social/Cheeky Monkey Brewing Co.
The former Jillian's tri-level entertainment complex transformed into Lucky Strike Social last year while also adding a brew pub to the mix. It still features bowling, billiards and dozens of arcade games, from tried-and-true classics to the latest high-tech distractions.
145 Ipswich St., 617-437-0300, jilliansboston.com
Museum of Fine Arts
The venerable institution is home to an encyclopedic art collection that ranges from ancient Egyptian relics to cutting-edge contemporary work, not to mention a renowned film program.
465 Huntington Ave., 617-267-9300, mfa.org