Boston Accent: Discovering Inspiration
Master Tour Guide Schuyler Sackett tells the amazing story of Christian Science and its founder Mary Baker Eddy at the Christian Science Plaza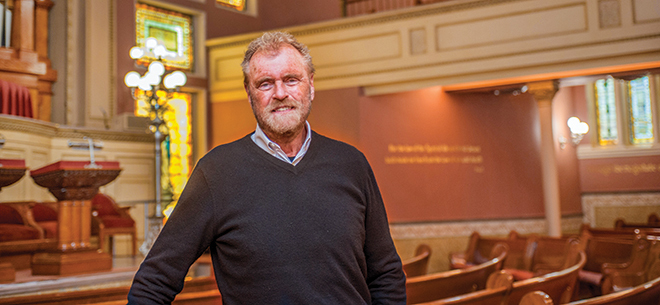 Photo: © The First Church of Christ, Scientist
Many visitors travel to Boston to explore Revolutionary history, yet even many Bostonians remain unaware that the Hub is also home to a fascinating chapter of religious history: the founding of Christian Science in the late 1800s by Mary Baker Eddy. Today, visitors can discover this story on the beautiful Christian Science Plaza, a 14.5-acre green space (designated a landmark by the Boston Landmark Commission) housing the religion's Mother Church, library (which includes the Mapparium, a walk-through, stained-glass globe), reflecting pool and more.
Schuyler Sackett is one of a dozen tour guides who regularly point out hidden gems like the church's Boston-built Aeolian-Skinner pipe organ—one of the 10 largest organs in the world. Yet it is Mary Baker Eddy's life that inspired Sackett to become a guide after a career in broadcasting. "I was in Boston," he remembers, "working on a documentary on American religious traditions called Landmarks of Faith. I covered formative figures like Anne Hutchinson, Mary Dyer and John Winthrop…yet the person I cared the most about was Mary Baker Eddy. For me, it became irresistible to tell her story as a guide."
Mary Baker Eddy faced adversity in the first half of her life, including severe health problems. She founded Christian Science on Massachusetts' North Shore in 1879 after studying the Bible to explain a healing experience. She soon moved to Boston, where she preached in public halls before the first church was built in 1894. "It was really a dynamic religious movement," Sackett explains. "Within a decade, they outgrew the original church and built an extension.…On opening day, they had multiple services because so many thousands of people were here." Today, Christian Science is a global religion with churches worldwide.
Visitors can explore the Christian Science denomination's unique edifices on a tour, or are welcome to experience it alone. "The church is available to anyone who just wants a quiet space to reflect, pray or contemplate." Yet on the tour, visitors can learn more about an often overlooked figure in American history. "Mary Baker Eddy accomplished amazing things when women were still struggling for the right to vote," says Sackett. "She left a great mark on the world. She was dedicated to sharing the good that she had found, and her story isn't known enough."