A Peek at the Past: Handel and Haydn Society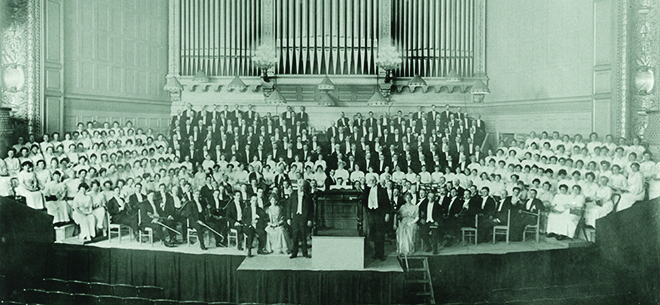 Photo: Courtesy of Handel and Haydn Society
One of the area's oldest cultural institutions, the Handel and Haydn Society (H+H) has been a fixture in the Hub since its founding in 1815. With its 204th season upon us, one could easily say that H+H is one of the major factors in Boston becoming a center for classical music. Even with its illustrious history, however, the orchestra has certainly experienced its share of changes over the centuries.
H+H was established by a group of music-loving Bostonians who wanted to introduce local audiences to great compositions. The names of 18th century Baroque composer George Frideric Handel and then-contemporary composer Joseph Haydn were used in order to represent both the old and new styles of music. In 1815, an inaugural performance including selections from Handel's Messiah and Haydn's The Creation and featuring a chorus of 90 men and 10 women was held at King's Chapel on Christmas Day. The ensemble's reputation grew, going on to premiere such works as Verdi's Requiem (1878) and Bach's St. Matthew Passion (1879) to U.S. audiences for the first time, as well as complete versions of Messiah (1818) and The Creation (1819). In fact, Messiah has become the company's most frequently performed piece, and has been a Yuletide staple every year since 1854. Other notable occasions from its early decades include playing for presidents, the Emancipation Proclamation celebration alongside orator Ralph Waldo Emerson and local memorial services honoring the passing of Presidents Adams, Jefferson and Lincoln. The H+H chorus even boasted such famed members as Julia Ward Howe, composer of "The Battle Hymn of the Republic."
The size of H+H fluctuated throughout the 20th century as tastes and fortunes changed. The biggest transition of the last century, however, was its adherence to the historically informed performances movement—an effort to conform to the original intent of classical and Baroque pieces—under artistic director Thomas Dunn, who, after his hiring in 1967, crafted a smaller, professional orchestra to replace the previously large group of amateur singers and musicians. This transformation became complete under new artistic director Christopher Hogwood in 1986 when he committed to using period instruments.
For those who want to see and hear America's oldest continuously performing arts organization for themselves, current H+H leader Harry Christophers gets the new season off to a rousing start September 28 at Symphony Hall.