High 5: Oktoberfest in Boston
Enjoy these local twists on the famed German tradition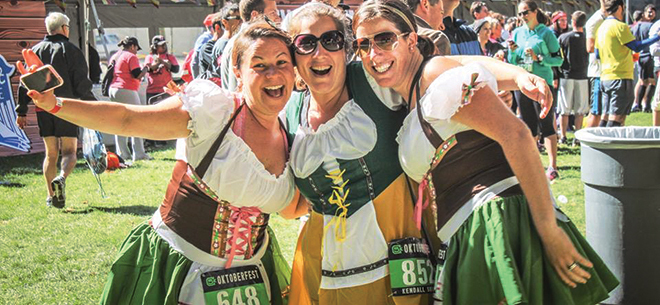 Harpoon Octoberfest (306 Northern Ave., 617-456-2322, harpoonbrewery.com): The Seaport brewery hosts its 29th annual bash, an outdoor shindig that features brats, bands and, of course, plenty of brews on September 28 & 29.
Cambridge 5K Oktoberfest (CambridgeSide, 100 CambridgeSide Place, Cambridge, cambridge5k.com/oktoberfest, pictured): Feel the burn by participating in this road race circling Kendall Square on October 7 beginning at 9:30 a.m., then quaff a few pints at a gathering on the shopping center's roof, where racers and fans can enjoy fresh-baked pretzels along with adult beverages from Notch, Slumbrew and Bantam Cider. Dirndls and lederhosen are encouraged.
Oktoberfest Yoga Brewha at Aeronaut Brewery (14 Tyler St., Somerville, 617-987-4236, aeronautbrewing.com): On October 6, have a zen Oktoberfest by enjoying an hour of yoga from 10:45–11:45 a.m. before relaxing with a beer. Tickets include the class and one brew.
Democracy Brewing Oktoberfest (35 Temple Place, 857-263-8604, democracybrewing.com): This new Downtown Crossing brewery and gathering spot hosts its first Oktoberfest, October 5–7, presenting five German-style brews paired with traditional German dishes, as well as live Bavarian music Saturday afternoon and German opera on Sunday.
Bronwyn (255 Washington St., Somerville, 617-776-9900, bronwynrestaurant.com): As one of the few German-themed restaurants in the area, this Union Square eatery—which features bands, German beers, a special menu and more every night and weekends beginning at noon—is a prime locale to celebrate Oktoberfest.