A Peek at the Past: Jamaica Plain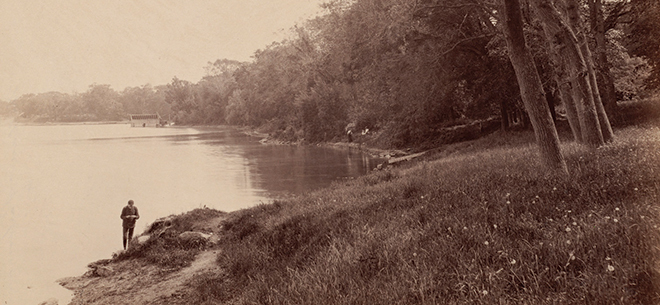 Photo: Jamaica Pond, 1894/courtesy of Boston Public Library
Before the Boston neighborhood of Jamaica Plain—once itself a section of nearby Roxbury—was incorporated into the Hub in 1874, it had mostly been known as host to farms, "country" mansions owned by wealthy Bostonians and the bucolic, picturesque Jamaica Pond. Partly due to German immigration in the late 19th century, however, it could be said that this hip locale just a few subway stops south of downtown is truly the place that beer built.
Known as "JP" to locals, Jamaica Plain was part of Roxbury when that town was founded in 1630. Variants of its name were first applied to the vicinity in the late 17th century, although its exact origins are unknown. In 1851, driven by wealthy estate owners, Jamaica Plain seceded from Roxbury—although as part of the area known as West Roxbury—in order to avoid taxes from increasing urbanization. Just over 20 years later, growth spurred by rail and streetcar access ironically led to the approval of annexation to Boston in order to take advantage of services, like sewer connections and street grading, that the city could provide.
Around this time is when the beer brewing history of the area began to take root thanks to the aforementioned German immigrants—as well as transplants from Ireland—and Stony Brook, a fresh source of water running through the area. Haffenreffer was one of the largest and most well-known breweries to come out of this era, although most were devastated by Prohibition and the Great Depression in the early 20th century. Key parts of Frederick Law Olmsted's Emerald Necklace park system were also established, including Arnold Arboretum, Franklin Park and Jamaica Pond.
Haffenreffer was the last of the pre-Prohibition Boston beer makers to close when it departed in 1964. That legacy was resurrected, though, when entrepreneur Jim Koch moved his Boston Beer Company, makers of the now-iconic Samuel Adams line of beers, into the old Haffenreffer facility in 1988. That and continued revitalization due to new immigration, a diverse restaurant scene and an artsy vibe have cemented JP as a place where both families and young professionals are proud to call home.