Boston Accent: Cheers!
Samuel Adams Brewery Manager Jennifer Glanville: "If you can dream it, you can brew it." Now pair it!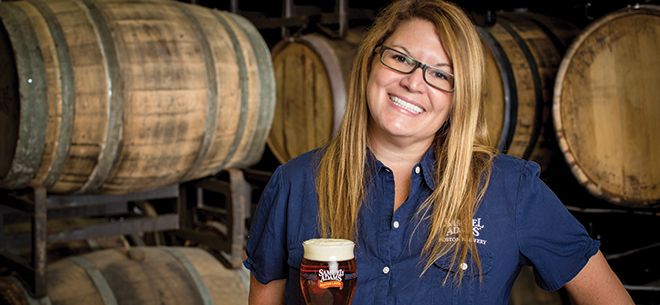 "As a self-proclaimed foodie, I love pairing beer with food because the possibilities are endless with so many flavor combinations," says Samuel Adams' Jennifer Glanville. Knowing she wanted to work with beer, Glanville began her role 17 years ago as Samuel Adams' Boston brewery manager, which quickly led to her enrollment in brewing school at Doemens Academy in Munich, Germany. She adds, "I've been brewing beer (and living my passion) ever since.
"One of my favorite pairings right now is using our New England IPA in a habanero-mango marinade for chicken wings. The citrus notes from the New England IPA are complemented by the mango in the marinade, and there's just enough kick from the habanero. They're my go-to for Sunday gameday!" she reveals.
Divulging another favorite flavor combination of beef and Sam Adams' Boston Lager, Glanville explains how, "the brew's upfront malt flavor matches the caramelized flavors of the meat, and its hoppy finish prepares the palate for the next bite." Glanville's advice for those embarking on their own flavor-pairing adventure is simple: "Have fun with it! Try out different beers and different foods to find what you like." She also recommends matching flavor intensities, an important consideration that ensures the flavors found in both the beer and dish selection are not overpowered.
Some of Glanville's favorite beers include the Boston Lager and Oyster Stout. "I'm fortunate enough to work for a brewery that celebrates creativity and truly believes that if you can dream it, you can brew it, and I've seen many examples of that over the years. But there really isn't anything like Boston Lager—it's the beer I always come back to." Yet there is another beer that is, truly, closer to home for Glanville. "I have a home in Wellfleet on Cape Cod and some of my fondest memories are at the annual Wellfleet OysterFest. I wanted to brew a beer to commemorate the festival, so we literally brew the beer with whole Wellfleet oysters and serve it each year at OysterFest and now at our Boston Brewery Tap Room. The saltiness from the oysters adds a slight acidity to the smooth, well-rounded stout." As for this holiday season, Glanville says to be on the lookout. "We are releasing three brewery-exclusive, limited-edition bottles—Old Fezziwig, Holiday Porter, Merry Maker—which make for great holiday gifts or unique beers to share at a holiday party."