A Peek at the Past: Holiday Pops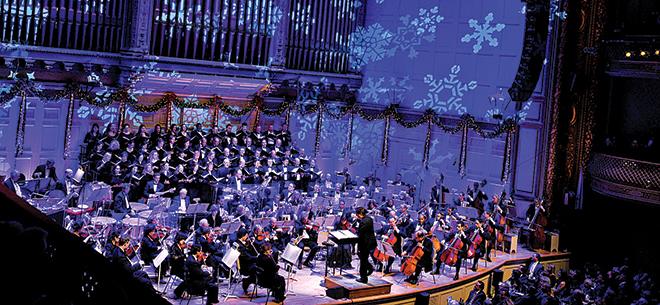 Photo: Stu Rosner
Titled "A Pops Christmas Party" when it made its debut, Holiday Pops has been a beloved yuletide tradition in the Hub since 1973. Originally helmed by legendary Boston Pops maestro Arthur Fiedler, this jolly celebration of the season has graced the halls of historic Symphony Hall ever since.
The Boston Pops Orchestra, which has origins dating back to 1885, was led by Fiedler for almost 50 years beginning with his appointment as conductor in 1930, bringing the organization national renown and acclaim. The idea for holiday-themed concerts, however, didn't take root until well into his tenure. Over the years, hallowed hallmarks of these performances have included a season-appropriate narration—Clement Moore's "'Twas the Night Before Christmas," selections from Dr. Seuss' How the Grinch Stole Christmas or the famed 1897 editorial from The New York Sun that has become known as "Yes, Virginia, there is a Santa Claus"—from a special guest, as well as sing-a-longs and a visit from Saint Nick himself.
Today, conductor Keith Lockhart carries the torch, having presided over Holiday Pops since his appointment as Pops conductor in 1995. Visits from Santa persist from December 6–24, and special family matinees give youngsters the chance to visit with him and receive holiday treats. Post-Christmas, shows featuring the comedy classic Home Alone scored by decorated film composer and former Pops conductor John Williams take place, while the New Year's Eve extravaganza—which was added in 1974—boasts a guest turn from actor/writer/director/singer/animator and native New Englander Seth MacFarlane.