10 Top Ways to Enjoy Winter in Boston
Both indoors and out, the Hub offers hot times for visitors of all ages this snowy season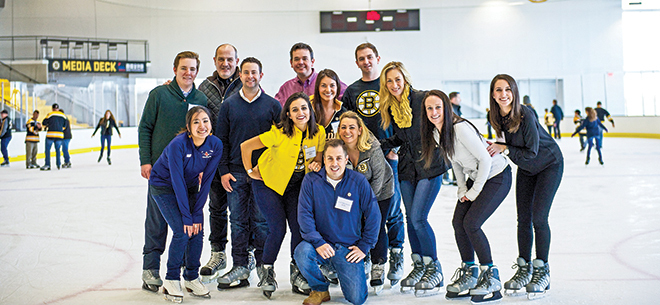 Warrior Ice Arena
Skate where the Boston Bruins hone their skills (pictured). This state-of-the-art facility, which debuted in 2016, hosts public skating—including the Rock N' Skate featuring a live DJ on Friday nights—as well as freestyle skating sessions, hockey lessons and home games for the National Women's Hockey League's Boston Pride. You can even check out a Bruins practice.
Boston Landing, 90 Guest St., Brighton, 617-WARRIOR, warrioricearena.com
Frog Pond Ice Skating Rink
A perennially popular cold-weather destination, the Frog Pond offers lessons, skate rentals and a cafe dishing out hot cocoa, pizza, French fries and more.
Boston Common, 617-635-2120, bostonfrogpond.com
Wachusett Mountain
The highest mountain in eastern Massachusetts is home to the East's most accessible trails, with a "Ski Train" departing from North Station at 8:35 a.m. on weekends.
499 Mountain Rd., Princeton, 978-464-2300, wachusett.com
Boston Celtics
Watch the boys in green burn up the parquet floor of the TD Garden. Upcoming highlights include contests against the Pacers (January 9), Raptors(January 16), Cavaliers (January 23) and reigning NBA champs the Warriors (January 26).
100 Legends Way, 866-4CELTIX, nba.com/celtics
Roald Dahl's Charlie and the Chocolate Factory
Bring the whole family to this stage musical that takes up residence in the Theatre District January 8–20. Based on the beloved book, it even boasts songs from the classic 1971 film adaptation starring Gene Wilder.
Boston Opera House, 539 Washington St., 866-523-7469, boston.broadway.com
Blue Hills Ski Area
Practically in Boston's back yard, this affordable ski and snowboard destination has been in operation since 1950.
4001 Washington St., Canton, 781-828-5070, bluehillsboston.com
Prism
This dance party on January 25 from 9 p.m.–midnight features DJs, cocktails and delicious local cuisine.
Cyclorama at Boston Center for the Arts, 539 Tremont St., 617-426-2748, theprismparty.com
Weston Ski Track
Cross-country skiing and snowshoeing are offered both day and night on 15 kilometers of trails less than 15 miles west of Boston.
190 Park Road, Weston, 617-965-5110, skiboston.com
Arnold Arboretum
Experience the beauty of the great outdoors at this historic Emerald Necklace botanical garden, which hosts many free programs, including guided winter birding excursions on January 9 & 27 at 9 a.m., a winter wellness walk on January 13 at 1 p.m. and a tour of the conifer collection on January 27 at 1:30 p.m.
125 Arborway, Jamaica Plain, 617-524-1718, arboretum.harvard.edu
deCordova Sculpture Park and Museum
Snowshoe among the masterpieces at this artful institution just west of Boston that offers guided excursions every Saturday at 10:30 a.m. and 1 p.m. beginning January 19, weather permitting.
51 Sandy Pond Road, Lincoln, 781-259-3616, decordova.org