Boston Accent: A Boston Encore
SMFA alumnus and executive vice president of design at Wynn Design & Development Roger Thomas returns to Boston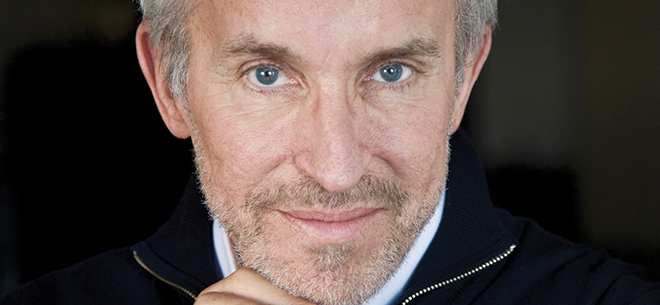 For Roger Thomas, who attended the School of the Museum of Fine Arts for college, working on the Boston area's first casino, Encore Boston Harbor, is somewhat of a homecoming. "I was a Las Vegas kid and I'd always wanted to live on the East Coast. I picked Boston because it felt right—it was the most charming, the most intriguing. I liked everything about it." Still, Thomas found that he had to adjust to the local vernacular. "I had to acquire a Boston accent so I could be understood! On my first T ride I asked the conductor if this was the train to Park Street Station. We couldn't understand each other!" he remembers with a laugh.
As a student, Thomas made frequent trips to Boston's most-loved interiors, particularly the Isabella Stewart Gardner Museum. "It's one of the great museums of the planet," he asserts. "I also love the Boston Public Library, for obvious reasons. And the Sargents at the Museum of Fine Arts bring me back time and again."
Thomas has brought his early love for dramatic and romantic interiors to all the Wynn properties, and Encore Boston Harbor is no exception. "It's contemporary and new, but it owes a lot of its thought and inspiration to once upon a time." Much attention is paid to the way colors reflect on skin, says Thomas, "so that you will feel yourself at best with us. The person you're with will look so attractive, you'll remember to tell them how good they look, and possibly even that you love them!" Grand resort hotels of New England are a point of reference, yet the vibe at Encore is decidedly modern. "We don't live that way anymore," says Thomas, "so this is a grand hotel, but it's a new grand hotel."
Thomas is also in town for Boston Design Week, for which he's giving a talk on his career, and as the honored recipient of BDW's 2019 Lifetime Achievement Award. "It has a wonderful centricity to it," says Thomas about receiving the award in the city where he gained so much of his design education. "This is my last big hotel design. I've had the same job for 40 years, and there are other things I want to do. But since this is where I started my career, I think ending it here, with this lovely recognition, is really kind of perfect. It is, in a word, delightful."
Boston Design Week Awards
April 5 from 5:30–8:30 p.m. at the Artists for Humanity EpiCenter, 100 West 2nd St., 617-363-0405, bostondesignweek.com. $50–250.