Boston Accent: Boston Calling
Tourism industry veteran Martha J. Sheridan looks to make her mark as the new President & CEO of the Greater Boston Convention & Visitors Bureau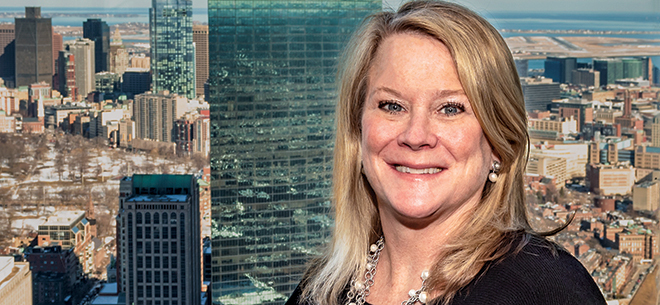 "I feel like I am on vacation every weekend," says Martha J. Sheridan about her new home city of Boston. "There is so much to explore and discover and I haven't even scratched the surface." The Rhode Island native moved here in December just before she began her current position as President & CEO of the Greater Boston Convention & Visitors Bureau (GBCVB). Promoting tourism is Sheridan's passion, and has been since college, when she worked as a tour guide at the Breakers Mansion in Newport, R.I. "I was hooked," says Sheridan, who served as President & CEO of the Providence Warwick Convention Bureau from 2006 until coming to Boston. In her new job, she is only the second woman to lead a first-tier market convention and visitors bureau in the United States.
One of Sheridan's goals in her new position is to secure dedicated funding for Boston's tourism sector. While Boston's tourism remains strong, other cities in the U.S. are coming up on its heels, Sheridan says. "The tourism sector is vital to Boston and Massachusetts in terms of economic vitality, job creation and overall quality of life. If we want to continue to grow market share, we will need to invest in a comprehensive program that keeps Boston in the national spotlight."
Another of Sheridan's aims is to introduce tourists to the Boston of today. "We want to delve into all the amazing assets in Boston's diverse and unique neighborhoods," she says, naming plans for digital guides and social media campaigns. "The traveler of today is looking to experience a destination 'like a local' and we want to provide them with the tools they need to access the authentic Boston."
"The list is too long," Sheridan said when asked what she thought are Boston's strengths, naming the city's "iconic landmarks and attractions, vibrant culture, prestigious universities and, of course, feverish sports fandom. Boston's blend of tradition and cutting-edge innovation creates a unique dynamic that is the essence of the city's brand." Yet beyond all that, Sheridan says, "What I have been truly impressed with are the people. Everyone we have met has been gracious, welcoming and authentic." It's our distinctive human spirit, as all Bostonians know, that is this city's foremost attraction.