Boston Accent: A Timely Tale
Renowned director Anne Bogart helms Boston Lyric Opera's new production based on Margaret Atwood's classic dystopian novel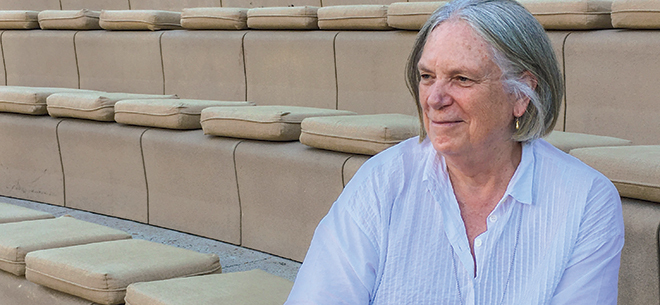 Photo: Nana Dakin
"This is a big opera," says Anne Bogart about Boston Lyric Opera's The Handmaid's Tale. "It's big in every sense. Large chorus, large orchestra, large ideas." The award-winning theater and opera director is no stranger to large productions, and has consistently embraced challenging themes in her career of more than 40 years. Despite a long list of professional triumphs, Bogart insists on remaining in the present, sharing that she always considers her current project to be the highlight of her career. "I know that sounds glib," Bogart continues, "but certainly right now Handmaid's Tale is the highlight, because it's highlighted. It's what is possessing me right now."
When BLO's Stanford Calderwood General & Artistic Director Esther Nelson approached Bogart about directing the opera, Bogart knew she was interested even before hearing the music. "The times we live in, it's so relevant," says Bogart, "and as I went deeper into it, my response became even more positive." The challenge came in compressing the events of Margaret Atwood's novel into a single performance without losing any of its message. "A lot of people have seen the TV program, which is so well done," says Bogart, referencing the popular Hulu series based on the novel. "You can't try to top that. We have to create a different kind of experience for the audience that widens their understanding of Atwood's novel."
Where television's strength lies in its cinematics, Bogart highlights theater's penchant for a more intimate experience. "It might feel a little bit like a Shaker meeting, a slightly spiritual feeling. We're making this more about the ritual of the women in the detention center," which, Bogart explains, Atwood envisioned as located in a Harvard basketball court. As such, the opera is staged at Harvard's Ray Lavietes Pavilion, a basketball arena.
"What's so amazing about what Margaret Atwood wrote," Bogart continues, "is that though she wrote a dystopian novel, she didn't want to make it up, for it to be science fiction." All the disturbing aspects of the world Atwood created are taken from historical examples, so that the story's power lies in its plausibility. "I hope people go away from the show recognizing the similarities," says Bogart, "and that maybe what we're experiencing in the opera is not so distant, but a precautionary tale about our potential future." Bogart pauses, then says, "I know that sounds dismal, but I think it's important. Considering Atwood wrote it in the 1980s, and it's so relevant now, that's extraordinary."
The Handmaid's Tale
May 5–12 at Harvard University's Ray Lavietes Pavilion, 65 North Harvard St., 617-542-6772, blo.org. $32–182.