A Peek at the Past: Allston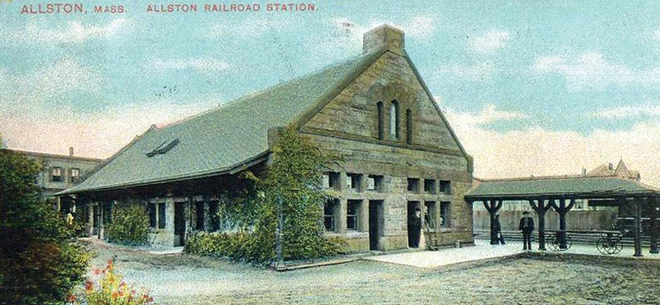 Today known primarily as a neighborhood dominated by college students that also offers a diverse array of affordable ethnic restaurants along with hip music venues, Allston has, like many of the city's outlying locales, experienced a slow evolution over its long history.
Originally—and perhaps still, depending on who you ask—part of adjacent Brighton, Allston, or at least its name, has unusually artistic origins. The region northwest of Boston was largely rural for much of the early history of English settlement. In 1807, a dispute over its growing cattle industry led to the secession of Brighton from Cambridge, of which it had previously been a part called "Little Cambridge." Allston itself was never a separate municipality, but when a new railroad station was built in 1867, the station and post office were named in honor of painter and Harvard alum Washington Allston (1779–1843) in 1868. This influential artist had lived across the Charles River in Cambridge and crafted a famed work depicting the area entitled Fields West of Boston. The moniker came into increasing usage for eastern sections of Brighton as time passed.
In 1874, Allston-Brighton was incorporated into the City of Boston and experienced substantial population growth. The previously mentioned rail station that precipitated the locality's name change was replaced with a sturdier, still-existing stone structure in 1887 (pictured, above, in a 1909 postcard) by the Boston & Albany Railroad in the Richardsonian Romanesque style they favored at the time. It is now an outpost of the renowned local pizza purveyor Regina Pizzeria. Allston can further be broken down into sub-neighborhoods that include Lower Allston to the north and Packard's Corner—named for the bygone automobile company—in the south.
Allston's proximity to many schools, including Boston and Harvard universities, has made it a popular zip code for the many students who reside there. In fact, Harvard boasts a substantial campus in Allston that houses Harvard Business School and the prestigious college's athletic facilities, including historic Harvard Stadium. In recent years, the Harvard Athletic Complex has played host to the three-day Boston Calling music and arts festival. Harvard's real estate holdings in Allston are actually larger than its core Cambridge campus, and development in Allston by America's oldest university continues apace.