Spotlight On: South Boston
Explore Southie's unique blend of historic character, innovative eateries and lively pubs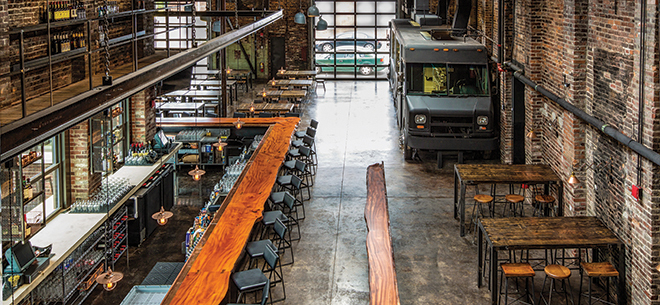 Where to Chow Down:
Fox & the Knife (28 West Broadway, 617-766-8630, foxandtheknife.com): James Beard Award-winner Karen Akunowicz dishes out handmade pasta, fun antipasti, Italian-inspired libations and more at this culinary hot spot.
Coppersmith (40 West 3rd St., 617-658-3452, coppersmithboston.com, pictured): Marvel at the indoor food trucks while you can—this adventurous eatery, which features an Airstream trailer-turned-bar on its seasonal roof deck, is set to be a victim of redevelopment later this year.
Local 149 (149 P St., 617-269-0900, local149.com): Situated just a few blocks from Pleasure Bay, this acclaimed bistro lives up to its name, offering modern American fare that highlights regional ingredients—not to mention a warming fireplace for chillier days.
Where to Get Your History with a View:
Dorchester Heights Monument: Although not open to the public, this tower centered on a hilltop park marks where George Washington and his troops placed an array of captured cannons, eventually forcing British occupiers to flee the city. The date? St. Patrick's Day, 1776.
Fort Independence (2010 William J. Day Blvd.): Located on Castle Island and connected to the mainland by a causeway, one of the oldest continually fortified sites in the country once hosted a young soldier named Edgar Allan Poe and boasts a historic, star-shaped structure completed in the mid-1800s, along with a playground and sweeping vistas of Boston Harbor and the city skyline.
Where to Sip Craft Spirits:
GrandTen Distilling (383 Dorchester Ave., 617-269-0497, grandten.com): Sample this craft distillery's gin, vodka, rum, whiskey and cordials or savor one-of-a-kind creations made with said booze at its welcoming barroom Thursday through Sunday.