High 5: Halloween Happenings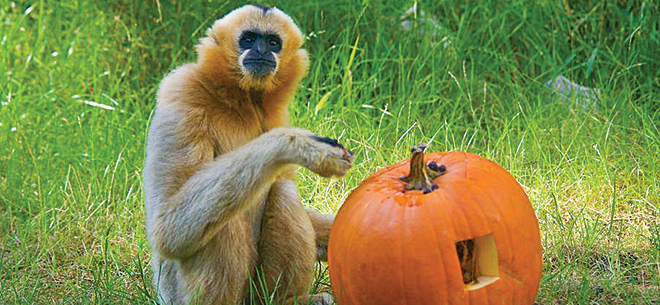 Photo: Dayle Sullivan-Taylor
Although the 2020 Halloween season will certainly be unlike any other, there are still plenty of "spirited" events going on in and around the Boston area.
Screams on Screen
"Scary real life" these days hasn't slowed down the attraction for "scary movie fun" for those looking to participate in the throwback drive-in vibe at impromptu film screening locales that popped up all over the Boston area this past summer. Spooky—and sometimes kooky—films can still be experienced communally at the Marshfield Drive-In (Hocus Pocus and Monsters, Inc., October 22–24), the Topsfield Drive-In (Hocus Pocus and Monsters, Inc., October 22 & 24; Scream and It, October 23; The Nightmare Before Christmas and Hocus Pocus, October 25), Suffolk Downs in East Boston (Beetlejuice, October 23; Hocus Pocus, October 24; Scream, October 25), Wamesit Lanes in Tewksbury (Hocus Pocus, yet again, October 25) and several outdoor events hosted by Coolidge Corner Theatre at Medfield's Rocky Woods Reservation (Evil Dead II and the 2013 remake of Evil Dead, October 30; and, for post-Halloween horror, a Friday the 13th double feature, November 13 & 14). For old-school drive-in fans, the Mendon Twin Drive-In is still going strong, showcasing both gory and kid-friendly Halloween-adjacent flicks all month long.
What's Up in Witch City
Most of the month-long, citywide Haunted Happenings celebration has gone virtual, giving the usual Salem shenanigans a worldwide reach this year. There are still some in-person events, however, including the new Salem Witch Trials exhibit at the venerable Peabody Essex Museum, Tales & Tombstones Trolley tours and harbor cruises.
Terrifying Tours
Boston has several favorite ghost tours that continue—thanks to good pandemic protocols—as October highlights, including the trolley-centric Ghosts & Gravestones tour and two narrated walking tours—the Harvard Square Ghost Tour and the Back Bay Ghost Tour—hosted by Cambridge Historical Tours as by-request-only private tours. Speaking of walking, Boston By Foot hosts several virtual experiences this month as part of its Three Nights of Frights, including the lectures Grave Undertakings—a look at New England's historic cemeteries on October 29—and The Dark Side of Boston on October 30, as well as the multi-guide presentation of the October 31 edition of True Lies and False Facts, a game in which the listener has to figure out which of the tales told are true and which are fabricated.
Frightening Family Fun
Trick-or-treating is likely to be non-existent this year, yet there's still seasonal fun to be had with the kiddies. On October 23 & 30 at living history museum Plimoth Plantation, Halloween costumes are encouraged at its A Historically Spooky Halloween event, which features 17th century games, spooky fireside stories and goodie bags for the kids. Check out Pumpkenrichment Days at Franklin Park and Stone zoos October 24 & 25 (pictured), when favorite furred and feathered friends receive gifts of everyone's favorite orange gourds while young visitors show off their costumes (with safe face coverings on, of course, in addition to Halloween masks). The indoor, socially distanced Lil' Monsters Halloween Bash takes place at the Hard Rock Cafe October 31, complete with candy, popcorn, a costume contest and a screening of Monsters, Inc.
Halloween & History
A Freedom Trail landmark, King's Chapel is unable to host its usual crypt tours this year, yet a few virtual events are being held via the ubiquitous Zoom. Test your brain (that is, if a zombie hasn't devoured it) with Trivia from the Crypt October 29 at 6 p.m., and enjoy a graves- and Halloween-themed scavenger hunt every Friday.