High 5: New Year's Eve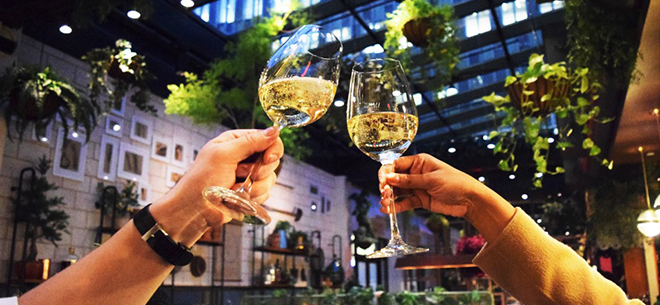 courtesy of Eataly Boston
Ringing in 2021, both in person and online
First Night Boston 2021: Boston's celebration of the New Year goes virtual this time around. Partnering with NBC10 Boston, NECN and Telemundo Boston, the non-profit that organizes the usual parades, fireworks and performances instead hosts a variety of musical and artistic acts—as well as well-wishes from prominent New Englanders and tributes to front-line workers—on its website that can be enjoyed from the comfort of home.
Boston Baroque: The period music orchestra moves forward with a web-based streaming version of its customary New Year's Celebration. Log on December 31 at 7 p.m.—with an encore January 1 at 3 p.m.—to toast 2021 with J.S. Bach's Brandenburg Concerto No. 4.
Eataly Boston: The indoor marketplace's Terra restaurant (pictured) offers its "Dinner Under the Stars," a five-course culinary celebration of the end of 2020. Choose from one of three sessions—3–5 p.m., 5–7 p.m. or 7–9 p.m.—and sup on rustic, wood-fired meats, vegetables and more, accompanied by a glass of sparkling bubbly. At-home party kits designed for up to four people and pre-cooked, family-style meals are also available.
Boston.com Cocktail Club: At 7 p.m., join superstar mixologist Jackson Cannon and guest bartender Haley Hamilton for a New Year's Eve edition of this new virtual class that focuses on the crafting of a proper Champagne cocktail and French 75. The series benefits Off Their Plate, a charity focused on getting nutritious meals to front-line workers and others in need while also helping support restaurant industry workers.
Miel Brasserie: InterContinental Boston's waterfront-facing French eatery boasts a sumptuous three-course feast featuring such delicacies as pistachio scallop and pan-seared sea bass on December 31 from 4–9 p.m. Stay overnight at the hotel or return the next day and enjoy a New Year's brunch at the restaurant—complete with eggs Benedict, mimosas and more—from 8 a.m.–2 p.m.